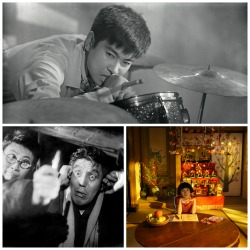 This program was selected from the film series Japan Sings! The Japanese Musical Film curated by Prof. Michael Raine, University of Western Ontario, organized by Japan Society (New York)
The Japan Foundation, Toronto presents three Japanese musical films in 35mm at the historic Revue Cinema! This eclectic selection comprises a modern masterpiece of Technicolor tragedy (Memories of Matsuko), an avant garde yakuza comedy (Oh! Bomb), and a bad boy drummer trying to make it big in the glamourous nightclubs of Ginza (The Stormy Man).
To put everything in context,  Prof. Michael Raine, curator of the Japan Society's extensive Japan Sings! musical film series, will be present to introduce each film.
All films are in Japanese with English subtitles. Free admission; registration opens on August 1!
Memories of Matsuko
Sunday, August 21, 4:00 pm
Tetsuya Nakashima/2006/130 min./colour/35mm/R
Starring Miki Nakatani, Eita, Yusuke Iseya, Teruyuki Kagawa, Mikako Ichikawa
event page and registration
---
Oh! Bomb
Sunday, August 28, 1:30 pm
Kihachi Okamoto/1964/95 min./b&w/35mm/PG
Starring Yunosuke Ito, Hiroshi Hasegawa, Kazuo Suzuki, Ichiro Arishima, Chotaro Togin
event page and registration
---
The Stormy Man
Sunday, August 28, 4:00 pm
Umetsugu Inoue/1957/101 min/colour/35mm/PG
Starring Yujiro Ishihara, Kyoji Aoyama, Fukuko Sayo, Mie Kitahara, Masumi Okada.
event page and registration
images © 2006 "Memories of Matsuko" Production Committee, © 1964 Toho Co., Ltd., © 1957 NIKKATSU Corporation