DARK & OCCULT Films From Japan
@JFT, free admission, registration required   
Get chilled to the bones with the upcoming film series that explores dark and macabre themes as well as the mysterious occult. The first part of the series features three films by cult favorite Shinya Tsukamoto, who was in Toronto earlier last month for the premier of his film KILLING.
The films in the second part are in conjunction with the upcoming lecture CONNECTION & CATASTROPHE at the Japan Foundation, Toronto by Japanese film scholar Professor Alexander Zahlten on November 21, 2018. Professor Zahlten will discuss some basic shifts in the relationship to media / the media environment that transpired in Japan in the 1970s and 1980s. The talk would track these shifts and changing attitudes through examining the films that came of out of the "occult film" boom of the time, some of which are included here. We will have a special co-presentation with the REVUE CINEMA and screening the film HOUSE on the big screen on November 19. More details below.
Some viewers may find the films disturbing. Viewer discretion is advised.
Part 1.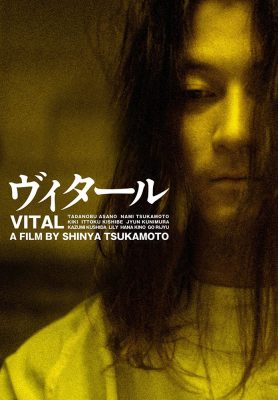 VITAL ヴァイタル
October 23, 2018 6:30 PM

Directed by Shinya Tsukamoto [2001] 86 min.
This beautiful and macabre film follows medical student Hiroshi after a fatal car accident that kills his girlfriend. In efforts to regain his lost memory, he begins searching for answers and happens upon an anatomy text book, which brings back his love of medicine and enrolls in medical school. details >
The Nightmare Detective 悪夢探偵
October 30, 2018 6:30 PM  
Directed by Shinya Tsukamoto [2006] 106 min. R-Rated
After a string of suspicious suicides where the victims slash themselves in their sleep, Detective Keiko Kirishima seeks the help of the Nightmare Detective who has the power to enter dreams. Can the killer be stopped before Keiko becomes the next victim? details >
Tetsuo The Iron Man 鉄男
November 1, 2018 6:30 PM 
Directed by Shinya Tsukamoto [1989] 65 min.
This cult favourite is the first feature that directed by Shinya Tsukamoto. The cyberpunk horror follows the transformation of flesh into machine. After a brief encounter with a metal fetishist, a salary man begins sprouting pieces of metal from his body and having horrific and bizarre fantasies. There will be a short discussion about the film post-screening. details >
Part 2.
Tidal Wave 日本沈没
November 6, 2018 6:30 PM  
Directed by Shiro Moritani, Andrew Meyers [1975] 84 min.
A huge earthquake in the Pacific ocean sends a gigantic tidal wave rushing towards Japan. Panic ensues as the desperate civilians flee the coastal areas. Volcanic eruptions and and firestorms burn cities to the ground. A weather research group discovers that Japan is moving towards the Japanese trench, which would bring the entire country under the ocean. What will they do to avert the collision course? details >
The version we are screening is the re-released version by New World Pictures with additional edits and sequences by Andrew Meyer.
House ハウス
November 19, 2018, 9:15 PM 
Directed by Nobuhiko Obayashi, (84 minutes) 1977
Tickets @Revue Cinema hausurevue.eventbrite.ca
Join us at the Revue Cinema for a co-presentation of House, a trippy, comedy-horror, that follows seven classmates who come face-to-face with evil spirits in a demonic house. details > 
Harmagedon: GENMA TAISEN ハルマゲドン幻魔大戦
November 27, 2018, 6:30 PM
Directed by Rintaro, (135 minutes) 1984
Half the universe has been ravaged by the evil GENMA, and now they are on their way to Earth. Only by mobilizing the world's greatest psychics does humanity stand a chance. details >