Whispering Spirits: Ghosts in the Literature of Izumi Kyōka and Book Design of Komura Settai

August 16th, 2022 @ 7:30 pm

-

8:30 pm

EDT

Cost: Free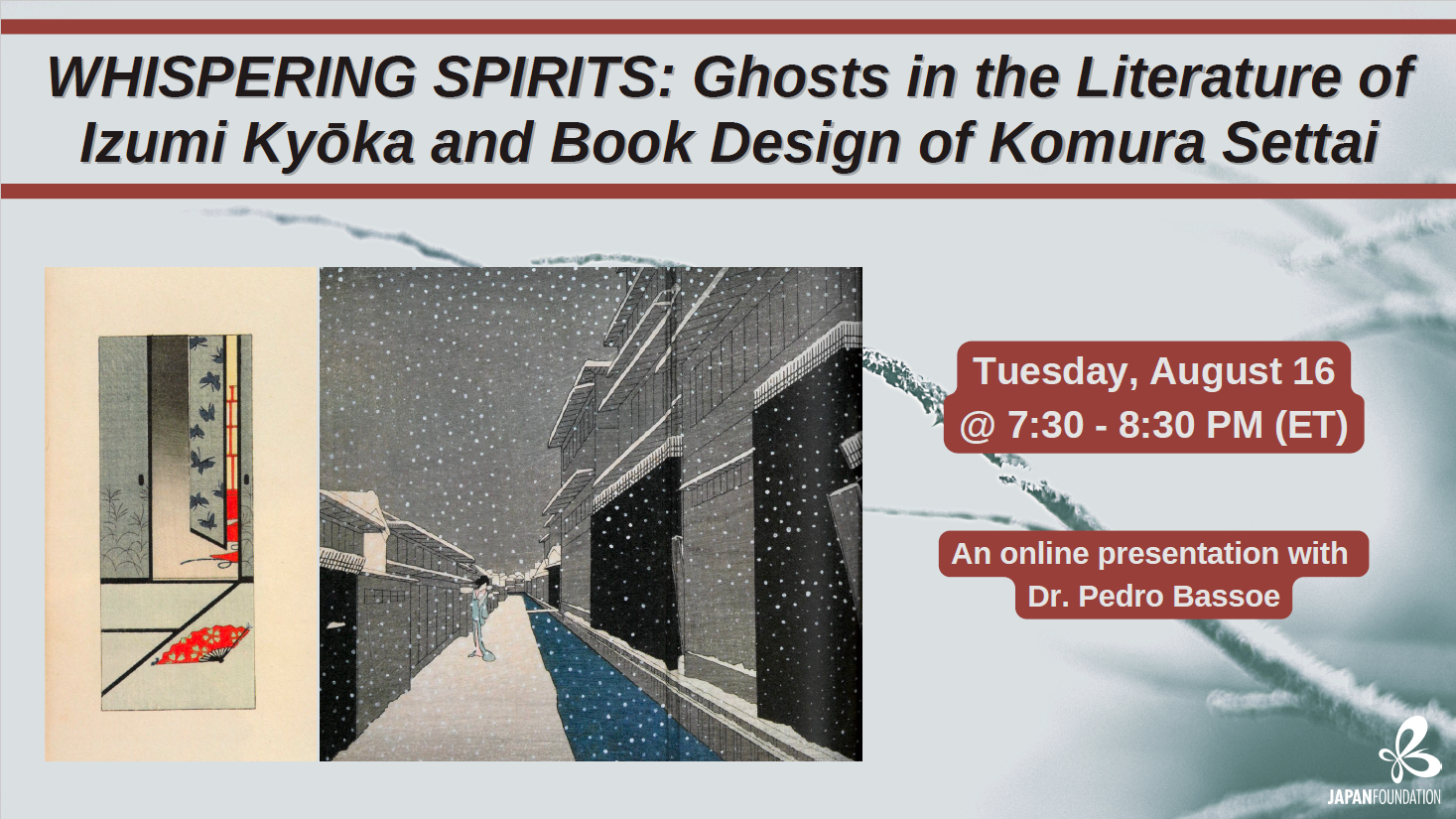 Throughout the first half of the 20th century, a time when Japanese authors looked to the West for new directions in their literary tradition, IZUMI Kyōka (1873-1939) upheld a centuries-long tradition of telling ghost stories and tales of fantastic creatures. Ignored by the critical establishment during his lifetime due to his single-minded obsession with ghosts and monsters, Kyōka later came to be identified as one of Japan's most important writers. While much has been written on the ghostly quality of Kyōka's fiction, almost nothing has been said of the appearance of ghosts in the artwork accompanying his literature, which was among the most extensively illustrated fiction of its time.
Images of ghosts adorn the boxes, covers, frontispieces, and endpapers of IZUMI Kyōka's books, particularly those created by KOMURA Settai (1887–1940), a pioneer of modern design in Japan. Beyond simply visualizing scenes from Kyōka's literature, Settai's illustrations elaborate on the illusory quality of Kyōka's apparitions by utilizing the space and material of the book to create optical illusions and impossible perspectives. Settai's book designs capture the central monster of Kyōka's literary universe: A faceless, wandering female spirit that draws on traditions of Japanese monsters such as the nopperabō, a smiling demon without eyes or a nose, and the tōrima, an evil spirit that whispers of calamity as it wanders through dark city streets.
In this talk, Dr. Pedro Bassoe will shine a light on the whispering spirits of Kyōka's books.
Register below to receive a link to the live presentation prior to the start of the event. A Q+A session with the audience will commence immediately following the talk. 
---
Pedro Bassoe is Assistant Professor of Japanese at Purdue University in West Lafayette, Indiana, where he teaches classes on Japanese literature, film, visual culture, and popular media. He has published one article on Art Nouveau book design in Japan and has a forthcoming article on photography and the formation of modern Japanese literature, as well as a forthcoming chapter on transnational narratives by contemporary women writers. He is currently working on a book manuscript titled Enchanted Images: Illustration, Book Design, and Visuality in the Literature of Izumi Kyōka, which explores the role of visual art and print media in the work of Japan's foremost writer of ghost stories and fantastic literature in the early 20th century.
---
Images: Ōkoshi Hisako and Saitama Kenritsu Kindai Bijutsukan. Komura Settai: monogataru ishō. Tokyo: Tōkyōbijutsu, 2014.
---
---
Registration
---