Embers 最後の命 (Online Film Screening)

June 3rd, 2022 @ 5:59 pm

-

June 5th, 2022 @ 11:59 pm

EDT

Cost: Free

Embers 最後の命
Friday, June 3, 5:59PM – Sunday, June 5, 11:59PM (ET)
Directed by MATSUMOTO Jumpei | 2014 | 110 minutes | Japanese with English subtitles
Online Film Screening (Canada only) | Admission Free | RSVP Required (register below to receive a viewing link on June 2)
*Please note this film will be capped at 650 registrants
Content warning: This film contains depictions of murder and sexual assault. Rated 15+ in Japan.
Adapted from the Akutagawa Prize-winning novel of the same name from renowned Japanese crime author NAKAMUMRA Fuminori, Embers 最後の命 is a suspense-filled portrayal of two childhood friends burdened by a tragic childhood memory and the murder that prompts them to confront their pasts.
As children, Keito (YAGIRA Yuya) and Saeki (YANO Masato) witnessed a brutal assault. Saeki asks to meet up with Keito, who has grown up struggling with his memory of the incident. However, on the evening of their meeting, Keito finds that a familiar call girl has been killed in his room…
---
Sunday, June 5, 12:30 PM – Wednesday, June 8, 11:59 PM (ET) | Register Here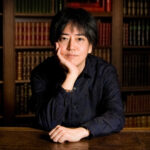 Tune in for an exclusive interview with novelist NAKAMURA Fuminori as part of the Toronto International Festival of Author's inaugural MOTIVE Crime & Mystery Festival.
What motivates a killer? Is everyone capable of a crime as heinous as murder? Award-winning Japanese author Fuminori Nakamura's latest book, My Annihilation (translated by Sam Bett), gets to the crux of these queries in a deeply revealing and disturbingly honest examination of the psychological motives of a killer. Nakamura's creative, puzzling narrative style makes it nearly impossible to discern what is truth and what is fabrication, until the very end. Trust no one when reading – not even yourself. Join a master of literary noir in this fascinating look into the darkest corners of human consciousness. This

virtual event will be presented in Japanese with English captions.
---
---
Registration
---