FALL FILMS 2019: Thermae Romae

September 17th, 2019
Cost: Free
FALL Film Screenings
@JFT, admission free, RSVP required
---

Thermae Romaeテルマエ・ロマエ 
Tuesday September 17, 6:30 PM
Directed by Hideki Takeuchi (108 min.) 2012 Japanese with English subtitles
An epic ONSEN extravaganza! Lucius, an architect of spa baths for the Roman Empire, inadvertently travels through time and finds himself in a modern ONSEN or Japanese bathhouse. He takes his Japanese inspirations back with him to ancient Rome and becomes hugely successful!   RSVP below please.
---
OTHER FILMS OF THE FALL FILM SERIES
Nobody To Watch Over Me誰も守ってくれない
Thursday September 19, 6:30 PM
Directed by Ryoichi Kimizuka (118 min.) 2010 Japanese with English subtitles
This deep thriller follows the suffering of the family of a teenage murderer and the struggles of Detective Katsuura, ordered to protect them from the unwanted media onslaught and public scrutiny. In a deadly game of hide and seek, malicious netizens unsatisfied with the young suspect in custody expose the family's personal information, as well as their every move.

Tale of Samurai Cooking武士の献立
Tuesday September 24, 6:30 PM
Directed by Yuzo Asahara (122 min.) 2013 Japanese with English subtitles
FOODIES ALERT! Watch this historical comedy set in Kaga prefecture, that follows the Funaki family who have served the Lord of Kaga for generations as "kitchen samurai" for their innovative dishes. Get ready to be hungry.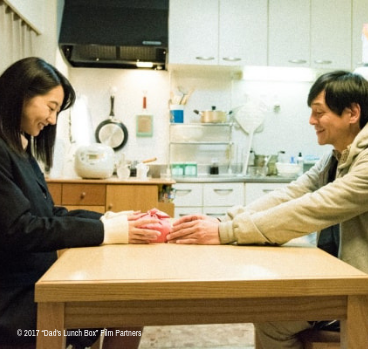 Dad's Lunch Boxパパのお弁当は世界一
Thursday September 26, 2:00 PM
Directed by Masakazu Fukatsu (77 min.) 2017 Japanese with English subtitles
Back to school BENTO blues? Get some inspiration with this film (a.k.a papaben) which follows three years of high school of Midori, who eats the bento lunch her dad makes for her every single day. Find out what surprise she finds from her dad in the very last bento of her high school year!
---
---