Hiroshige's "Edo Hyaku": Perspectives of Landscape Ukiyo-e Prints in Portrait Layout

March 11 @ 11:30 am

-

4:30 pm

EST

|

Recurring Event

(See all)

An event every week that begins at 11:30 am on Tuesday and Thursday, repeating until April 15th, 2023

One event on November 19th, 2022 at 11:30 am

One event on November 26th, 2022 at 11:30 am

One event on December 3rd, 2022 at 11:30 am

One event on December 17th, 2022 at 11:30 am

One event on January 14th, 2023 at 11:30 am

One event on January 28th, 2023 at 11:30 am

One event on February 4th, 2023 at 11:30 am

One event on February 18th, 2023 at 11:30 am

One event on March 4th, 2023 at 11:30 am

One event on March 11th, 2023 at 11:30 am

One event on March 18th, 2023 at 11:30 am

One event on March 10th, 2023 at 11:30 am

One event on March 24th, 2023 at 11:30 am

Cost: Free
Hiroshige's "Edo Hyaku": Perspectives of Landscape Ukiyo-e Prints


With originals from the Royal Ontario Museum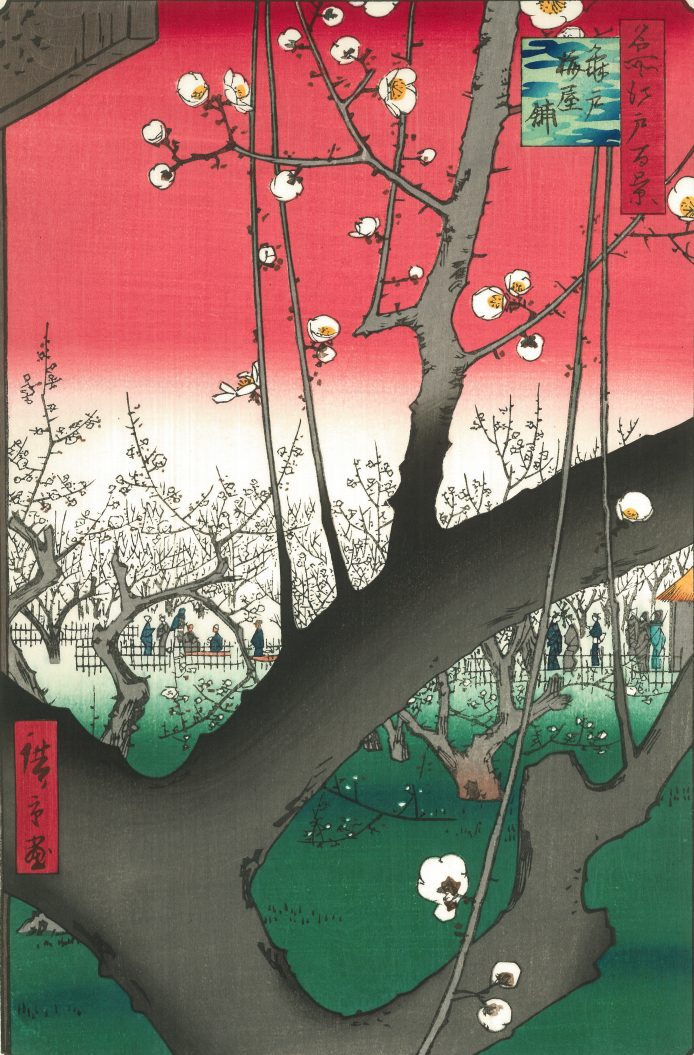 "Edo Hyaku", One Hundred Famous Views of Edo 名所江戸百景 (Meisho Edo Hyakkei) is a series of over one hundred woodblock prints designed by Hiroshige (1797–1858) , which began to be published in 1856 and was completed in 1859 after Hiroshige's death.
In order to cover the huge amount of works in this series, we have been having a geological lineup in our 2019 exhibition, then we focused on the theme of cherry blossoms in October 2021 – April 2022. For this third Edo Hyaku period, starting in the fall of 2022, we are concentrating on the theme of Boats and Bridges, which will be followed by our final period of Edo Hyaku: Residents and City Streets in New Year 2023.
For these upcoming two periods we are welcoming original pieces of the Edo Hundred series from the Royal Ontario Museum. This set of Edo Hyaku prints arrived for public attention relatively recently in 2002, and was re-discovered as an album or a form of folded book bound by pasting prints together edge-to-edge. Although the edges of the prints are missing by the binding, and the album suffered worm damage, the colour condition of this set is remarkable. Being away from lights, the prints here maintained their vivid colours. For the first time the prints are displayed publicly and individually at The Japan Foundation, Toronto after going through conservation procedures such as separation of the pages, cleaning, and repair.
In addition to over twenty original pieces from the ROM in each period, we have reproductions, which some people rather call re-conceived prints. These non-originals are not offset prints from photography, but are re-carved and hand-printed in the traditional method based on historical research.
Through these prints we are examining Hiroshige's final years, which is characterized by the use of tall portrait layout in landscape paintings. Linear perspectives and the expression of depth and distance are the keys to unfold the visual wealth of Hiroshige's late pieces. A masterpiece of this period, consisting of a trio of triptychs known as Snow, Moon, and Flower (1857) is on display, along with pieces from the series kown as Famous Views of the Sixty-odd Provinces (1853–56).
In comparison with these other pieces from Hioroshige's late period the special characteristics of the Edo Hyaku series become more evident. Hiroshige's compassion and nostalgic affection for his own home town Edo, now known as Tokyo, is evident in the Edo Hyaku print series. Some researchers point out that the whole project of the publication of Edo Hyaku was a disaster relief effort for the Ansei Great Earthquake in 1855. Hiroshige's beloved Edo was awfully almost completely destroyed, and the lives of many citizens were lost. The glances of Hiroshige we can feel in Edo Hyaku are so gentle, intimate, comforting, and yet noble and proud.
---
Admission: FREE
Gallery Hours: Hourly timeslots starting at 11:30 AM, 12:30 PM, 1:30PM, 2:30 PM, 3:30 PM (4:30 PM and 5:30 PM on select Fridays)
Our gallery exhibition is open on Tuesdays, Thursdays, select Fridays, and select Saturdays. In order to maintain social distancing, we are limiting the number of visitors to 20 in each timeslot.
Library & Gallery Opening Hours
| | |
| --- | --- |
| Monday | CLOSED |
| Tuesday | 11:30am to 4:30pm |
| Wednesday | CLOSED |
| Thursday | 11:30am to 6:30pm |
| Friday | 11:30am to 4:30pm |
| Saturday | 11:30am to 4:30pm |
| Sunday | CLOSED |
---
Related Programming: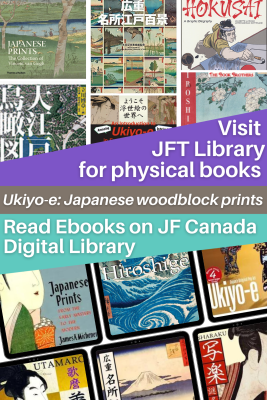 Check Out JFT Library's Books on Ukiyo-e (Japanese woodblock prints) before or after Gallery Visit!
Want to dive deeper into the world of Hiroshige's art? Learn more about Hiroshige, the history of ukiyo-e and other ukiyo-e artists by checking out JFT library's list of physical books and ebooks before or after visiting our current Gallery exhibition, Hiroshige's "Edo Hyaku"!
Apply for a new library card or renew your expired card here.
---
---