Mishima: A Life in Four Chapters

September 19th, 2017 @ 6:30 pm

-

8:30 pm

EDT

|

Recurring Event

(See all)

One event on September 25th, 2017 at 6:30 pm

Cost: Free
Mishima: A Life in Four Chapters
Two screenings. Please register at bottom
Tuesday, September 19, 2017, 6:30-8:45 PM 
Monday, September 25, 2017, 6:30-8:45 PM 
Director: Paul Schrader (121 min.) 1985
Cinematography: John Bailey
Production design   Eiko Ishioka
Costume design       Eiko Ishioka
In conjunction with Graphic Liberation of Gender: Eiko Ishioka Poster Exhibition
Paul Schrader's visually stunning, collagelike portrait of acclaimed Japanese author and playwright Yukio Mishima (played by Ken Ogata) investigates the inner turmoil and contradictions of a man who attempted an impossible harmony between self, art, and society. Taking place on Mishima's last day, when he famously committed public seppuku, the film is punctuated by extended flashbacks to the writer's life as well as by gloriously stylized evocations of his fictional works. With its rich cinematography by John Bailey, exquisite sets and costumes by Eiko Ishioka, and unforgettable, highly influential score by Philip Glass, Mishima: A Life in Four Chapters is a tribute to its subject and a bold, investigative work of art in its own right.
CAST
Yukio Mishima        Ken Ogata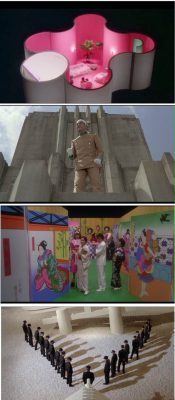 Morita            Masayuki Shionoya
Cadet no. 1    Hiroshi Mikami
Cadet no. 2    Junya Fukuda
Cadet no. 3    Shigeto Tachihara
General Mashita      Junkichi Orimoto
Mishima, age 18-19 Go Riju
Mishima, age 5         Yuki Nagahara
Mizoguchi     Yasosuke Bando
Mariko           Hisako Manda
Osamu           Kenji Sawada
Kiyomi           Reisen Lee
Mitsuko         Setsuko Karasuma
Takei              Yasuaki Kurata
Isao                Toshiyuki Nagashima
Lieutenant Hori       Hiroshi Katsuno
Izutsu             Hiroki Ida
Kurahara       Jun Negami
CREDITS
Director                                 Paul Schrader
Screenplay                            Chieko Schrader, Paul Schrader and Leonard Schrader
Executive producers           George Lucas and Francis Ford Coppola
Producer                                Tom Luddy, Mataichiro Yamamoto and Mata Yamamoto
Associate producer              Leonard Schrader
Music                                     Philip Glass
Cinematography                  John Bailey
Production design               Eiko Ishioka
Costume design                   Eiko Ishioka
Sound                                     Leslie Shatz
Visual effects                         Catherine Craig
REGISTRATION for September 19, 2017, 6:30-8:45 PM 
Oops! We could not locate your form.
____________________________________________________________________________
____________________________________________________________________________
REGISTRATION for Monday, September 25, 2017, 6:30-8:45 PM 
Oops! We could not locate your form.
---
---