Transcending Borders: Author NISHI Kanako in conversation with Dr. Christina Laffin

March 10 @ 12:00 am

-

March 19 @ 11:59 pm

EST

Cost: Free
Beloved Japanese author NISHI Kanako has written more than twenty novels, essay and short story collections, and children's books. Her barrier-breaking works cross genres, genders, classes, regions, nations, languages, and media. In 2019, Ms. Nishi moved to Vancouver, Canada, and stuck up a friendship with Canadian scholar of premodern Japanese literature Dr. Christina Laffin. In this JFT-exclusive interview, Dr. Laffin sits down with Ms. Nishi to chat about the transnational themes behind Ms. Nishi's works, her impressions of Canada after living here the last three years, and her thoughts on female authorship in Japan's literary community.
Register for this event to view the interview anytime between Friday, March 10 and Sunday, March 19. Registered viewers will have an opportunity to ask Ms. Nishi a question and receive a response. Ms. Nishi will address as many questions as she can.

NISHI Kanako (西加奈子) was born in Tehran, Iran, where her family had relocated for her father's job. She subsequently lived in Japan for several years before moving with her family to Cairo, Egypt, where she spent four of her elementary school years. The male protagonist's early life in her novel Saraba! (So Long!) roughly parallels her own. At 25 she began writing fiction, and made her literary debut in 2004 with the short story collection Aoi (Blue). In 2006 she won the Oda Sakunosuke Prize for her novel Tsūtenkaku (Tower to Heaven), and in 2012 she received the Kawai Hayao Prize for the novel Fukuwarai (Funny Face). Her monumental 2014 novel Saraba!, in which the action roves across all of the places where she has lived, from Iran to Egypt and Osaka to Tokyo, garnered her the prestigious Naoki Prize. Nishi's forthright portrayals of the alienation experienced by characters with strong personalities have gained her a wide following, especially among young readers. She is also known as an avid fan of professional wrestling.

Christina Laffin (クリスティーナ・ラフィン) is an associate professor at the University of British Columbia where she leads classes on travel literature, maps, nature, and women's writings in the Department of Asian Studies. She is currently translating a career guide written by and for a woman in 1264, collaborating with graduate students on videos about ninth- through nineteenth-century Japan, and cocreating a digital narrative of a seventeenth-century poetic journey to Yoshino.

Related programming: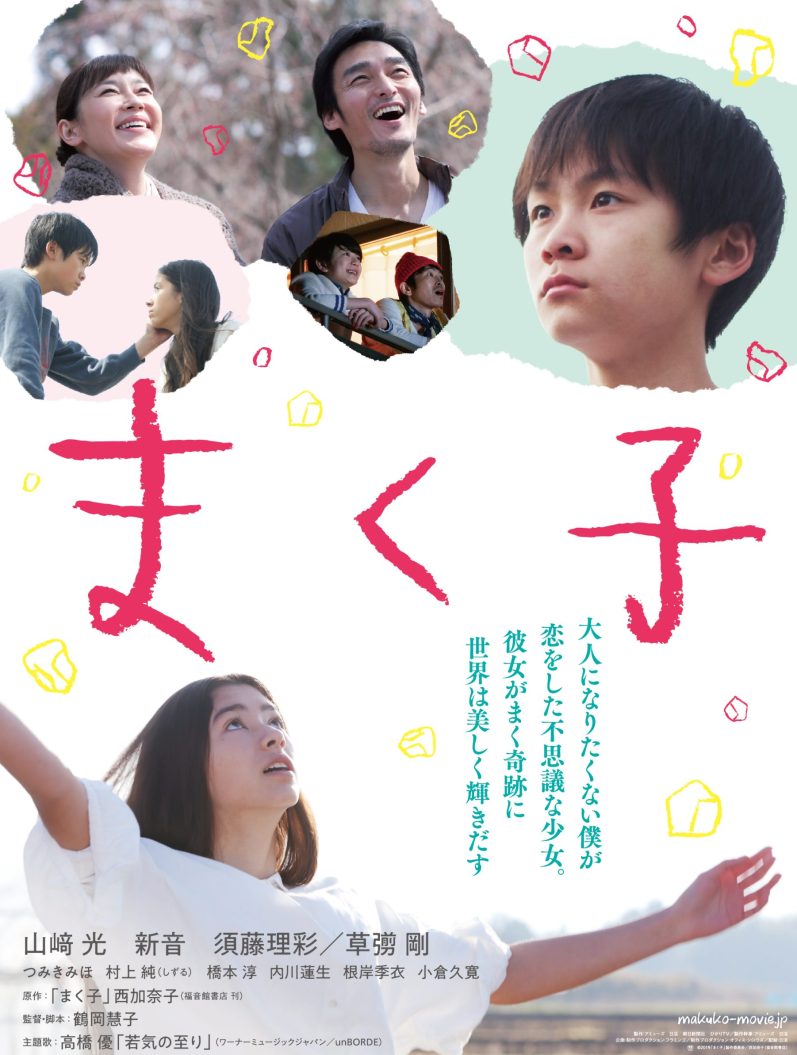 Online Film Screening: Makuko • まく子
Friday, March 17, 5:59PM – Sunday, March 19, 11:59PM (ET)
Directed by TSURUOKA Keiko • 2019 • Drama / Sci-Fi / Coming-of-Age • 108 min.
Presented in Japanese with English subtitles • Trailer
Adapted from the novel of the same name written by beloved Japanese author NISHI Kanako.
Fifth-grader Satoshi (YAMAZAKI Hikaru) is distressed by his changing body and feels repelled by his womanizing father (KUSANAGI Tsuyoshi). Then, Satoshi gradually finds himself drawn to Kozue (Ninon), a mysterious transfer student who won't leave his side. Kozue and her mother start living in the guesthouse of Satoshi's family inn and soon Kozue confides in Satoshi an unbelievable secret: She came from another planet! 
JFT Book Club Online – Three Short Works by NISHI Kanako: On beauty, the Female Experience and Othering
JFT Book Club Online discussed NISHI Kanako's short story VIO along with the author's essays On Beauty, Sexual Violence, and Toni Morrison's The Bluest Eye and Merry Christmas. For those who missed the book club but are interested in reading her three short works, click here to check out the slides prepared by our guest moderator Ms. Kris Kosaka, which includes discussion questions and supplementary explanations about Japanese culture depicted in the three short pieces by NISHI. Hope this helps enhance your reading experience!
*Book List – NISHI Kanako's short stories are available online for free in English. Click here to check author details and where you can find more of her works.
---
---