Ryoji Ikeda and Walter Jule: Threshold

November 5th, 2014
|
Recurring Event
(See all)
Monday - Friday, some Saturdays
Cost: Free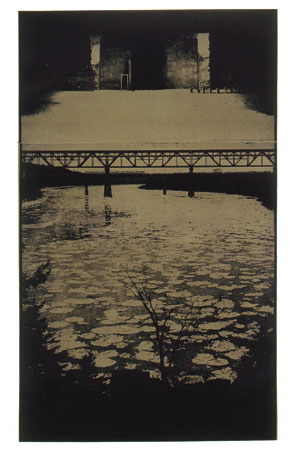 A Print Exhibition
co-presented by University of Alberta and The Japan Foundation
November 5, 2014 – January 29, 2015
The Japan Foundation, Toronto proudly presents Threshold, an exhibition featuring the artwork of Ryoji Ikeda and Walter Jule, two pioneers in the field of printmaking and photography. From Tokyo, Japan and Alberta, Canada respectively, Ikeda and Jule are uniquely compatible. A glance at these artists' chronologies reveals their mutual integration of innovative printmaking processes in conjunction with traditional Japanese techniques. Both Ikeda and Jule draw inspiration from Eastern philosophy, enacting the themes of time, light, and various states of being. Ikeda and Jule met in 1985, and their collaborative efforts, as artists, friends and teachers, have progressed alongside their personal development. Please join the Japan Foundation, Toronto in welcoming the first joint exhibition of Ryoji Ikeda and Walter Jule. Threshold, a showcase of creative partnership, will seek to help spread the universal spirit of art.
image: Ochiishi Nemuro and the North Saskatchewan River, Ryoji Ikeda
Ryoji Ikeda
Ryoji Ikeda, born in Hokkaido in 1947,  is one of Japan's foremost contemporary printmakers. A professor of Printmaking at Musashino Art University in Tokyo, Ikeda is widely known for his unique brand of work, which mixes photography with photomechanical and printmaking practices. Ikeda's work can be found in the collection of the National Museum of Modern Art, Tokyo and other art galleries around the world. He was awarded the Purple Ribbon Medal by the Government of Japan in 2009 in recognition of his achievement as an international artist. Ikeda has been the recipient of the Beijing International Print Biennial Silver award and the Seoul International Print Biennale Exhibition Grand Prix. Ryoji Ikeda has visited the University of Alberta several times, as a visiting professor, a guest professor, and as an adjunct professor.
Walter Jule
Walter Jule, a professor emeritus of the Department of Art and Design at the University of Alberta, is recognised for his exemplary art practice and teaching legacy. Born in Seattle, Walter Jule studied at the University of Washington, specialising in architecture and printmaking. Jule relocated to Canada in 1970 and was instrumental in assisting with the establishment of the country's first printmaking graduate program at the University of Alberta, continuing to teach there until his retirement in 2006. Walter Jule's work can be found in the collection of the National Gallery of Canada as well as over 60 international public collections. Jule has receivedf numerous awards, including the Tokyo International Mini-Print Triennial (Japan, 2005). Jule has also been inducted into the City of Edmonton's Arts and Culture Hall of Fame.
Threshold Exhibition Hours
Monday
11:30 am - 7:00 pm
EXTENDED HOURS
Tuesday
11:30 am - 4:30 pm
Wednesday
11:30 am - 4:30 pm
Thursday
11:30 am - 7:00 pm
EXTENDED HOURS
Friday
11:30 am - 4:30 pm
Select Saturdays
noon - 5:00 pm
November 8, 22
December 6
January 10, 24
CLOSED
Other Saturdays, Sundays
November 11 (Remembrance Day)
December 20 - January 4 (Christmas and New Year)
---
---