JFT Online 'Sawakai' for Japanese Teachers (21)

November 2nd, 2020 @ 6:00 pm

-

6:40 pm

EST

Cost: Free
JFT日本語教師オンライン茶話会のお知らせ
JFT日本語教師オンライン茶話会は、オンライン授業で実践したことを小グループで共有し合う実践共有会です。これからしてみたいと思っているアイデアや、ちょっと行き詰まっているなと感じていることなどでもかまいません。普段なかなか会えないカナダ各地の先生方とお話してみませんか。
カナダ国内からでしたら、どなたにもご参加いただけますので、ご興味のある方は本ページ下段よりお申し込みください。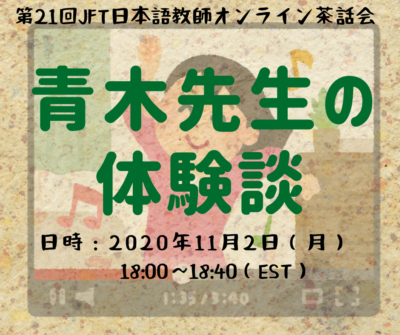 第21回JFT日本語教師オンライン茶話会
日時:2020年11月2日(月) 6:00 pm ~ 6:40 pm(東部時間)
お住まいの地域での時刻はこちらでご確認ください。 https://bit.ly/33zMif8
   Zoom入室開始:5:30 pm
   *開始2時間前にMeeting IDを送付しますので、それまでにお申し込みください。
トピック:○○先生の体験談 ~クイーンズ大学 青木先生~
第22回JFT日本語教師オンライン茶話会
日時:2020年11月18日(水) 6:00 pm ~ 6:40 pm(東部時間)
トピック:評価どうすることにした?
お申し込み:https://tr.jpf.go.jp/event/sawakai22/
対象者:カナダ在住の日本語教師、および、日本語教育に興味のある方々
使用言語:日本語
JFTスタッフ:呉屋 由郁子、齋藤 典子
お問い合わせ先:齋藤 典子 nsaito@jftor.org
---
JFT Online 'Sawakai' for Japanese Teachers
The JFT Online 'Sawaki' for Japanese Teachers is a place where teachers can share with others how their online classes are going. All topics are welcome, including if you have any ideas you would like to try out, anything you feel a little stuck on, etc. Why not take the opportunity to talk with other teachers from across Canada?
Everyone within Canada is welcome so please feel free to register using the form below.
21st Online 'Sawakai':
Date and time: Monday, November 2, 2020   6:00 pm – 6:40 pm (Eastern Time)
Click here to confirm the time in the region you live in.   https://bit.ly/33zMif8
   Zoom meeting accessible from 5:30 pm
   *The Zoom Meeting ID will be sent to participants 2 hours before the event starts, so please make sure to register before then.
Topic: Sharing Teaching Experiences – Prof. Aoki (Queen's University)
22nd Online 'Sawakai':
Date and time: Wednesday, November 18, 2020   6:00 pm – 6:40 pm (Eastern Time)
Topic: How did you decide to evaluate student progress?
Registration: https://tr.jpf.go.jp/event/sawakai22/
Participants: Japanese language teachers residing in Canada or residents of Canada who are interested in language education are also welcome to attend.
Language: These gatherings will be conducted in Japanese
JFT staff: Yuiko Goya, Noriko Saito
Inquiries: Noriko Saito nsaito@jftor.org
---
---