Tanabata Star Festival 2023 at JFT Library

July 8 @ 11:30 am

-

4:30 pm

EDT

Cost: Free
Thank you to all those who joined Tanabata Star Festival 2023 at JFT Library!
Here are some lovely comments from our patrons who completed our questionnaire and agreed to share:
🌟 "I really loved the Tanabata festival. I can get to know the story behind it and tried Yukata and made a wish on a bamboo tree. I made a new friend too today. It was a nice experience." — Jessica
🌟 "JFT's Tanabata Festival was an amazing chance to really experience some amazing parts of the rich Japanese culture. Fishing for origami fishes was very creative to do in their part and was a fun experience for me! Being able to write wishes on the Tanzaku and hanging it on their makeshift bamboo tree inside the library was also a great experience to try out. Seeing the colorful strips of paper hanging on the bamboo leaves was also just very beautiful. Usually the library is very quiet and there's not a lot of people at the same time, but today, there were so many visitors, and you could see and feel how excited everyone was to wear Yukata's and get their pictures taken! I really hope they keep doing this every year and I definitely recommend more people to go to them if they are looking for ways to delve deeper into everything Japanese. ." — Arianne
🌟"This year's Tanabata Festival is even better than last year's! I was excited to try on Yukata for the first time in my life. Once dressed in Yukata, I had to walk in small steps as the range of motion was restricted by the clothes. I also felt I needed to walk and move with a nice posture like an elegant and proud woman would do. That's such an educational experience for me. I really appreciate the warm welcome and hard work of all staff and volunteers who made this experience memorable. Thank you!" — Anonymous
For those who have not yet had the chance to fill in the questionnaire, it would be of great help to us if you could complete this by Friday, July 21st. As we strive to continually improve and create more inspiring experiences for our patrons, your feedback will play a vital role in shaping our future events!
---

Tanabata Star Festival (七夕祭り) is a traditional Japanese festival where people make wishes and send them to the stars. Mark your calendar for a special day of cultural exploration, creativity, and heartfelt wishes at JFT Library!

*No RSVP is required. Bring your friends and family to this immersive cultural experience!
**Updated July 6, 2023: You're on camera! Our video team will be filming the Tanabata Festival around 1:30 pm – 4 pm, as part of a promotional video project for the Japan Foundation, Toronto. The faces of all visitors will be either blurred or excluded from the final video, unless explicit consent is given. Please let us know if you have any questions or concerns. Thank you for your patience and understanding!
Join us on this joyous occasion and engage in a variety of activities that will transport you to the heart of Tanabata, including: 
Tanzaku Wish Card
11:30 – 16:30
Write your desires and aspirations on a tanzaku wish card (a colourful strip of paper), then hang it on sasa (bamboo branch).

Kamishibai Storytelling
13: 00 – 13:30, 15:30 – 16:00
Listen to the mesmerizing art of kamishibai, a traditional Japanese form of street theatre and storytelling, where folk tales and children's stories are brought to life through vibrant illustrations and dynamic narration!
Origami Fishing Pond
11:30 – 13:00, 13:30 – 15:30, 16:00 – 16:30
Goldfish catching is a quintessential festival activity in Japan. For our Tanabata Star Festival, we have prepared an origami fishing pond instead. Try catching some origami sea creatures with a fishing rod!
Origami/Kirigami Workshop
11:30-12:00, 13:45-14:15, 14:30-15:00
Unleash your creativity with origami/kirigami paper craft and create stunning Tanabata ornaments! While origami is the Japanese traditional art of paper folding, kirigami is the art of cutting paper into ornamental objects or designs. Bring the spirit of Tanabata to life with your own hands!
Yukata Dress Up
11:30 – 13:00, 14:00 – 15:30
Don't miss the chance to try on a Yukata (a traditional Japanese garment worn during the summer season). Feel a connection to the vibrant traditions of Japan!
Photo Booth
11:30 – 13:00, 13:30 – 15:30, 16:00 – 16:30
Capture the memories of this special day at our photo booth with entertaining props and a festive backdrop!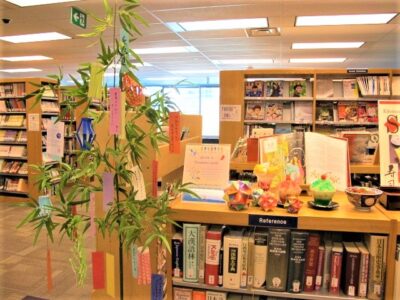 Check out Library Materials and Cultural Items on Display about Tanabata and Japanese Festivals!
11:30 – 16:30
Visitors are welcome to browse our collection of over 20,000 Japan-related materials covering a wide range of topics, including Tanabata and Japanese festivals.
If you're new to our library, we can help you sign up for a library card!
Click here to download a PDF file of Tanabata Star Festival activities schedule
---
---