Art of the Game: Ukiyo-e Heroes (film screening)

December 1st, 2022 @ 7:00 pm

-

9:00 pm

EST

Cost: Free
Art of the Game: Ukiyo-e Heroes
THURSDAY, DECEMBER 1, 7:00 PM (ET) | In-Person at the JFT Event Hall
Doors open at 6:30 PM
Director: TOKIKAWA Toru • 2017 • Documentary • 97 min.
Presented in English/Japanese with English subtitles • Trailer
In-Person Film Screening • Free Admission • RSVP Required (register below)
A journey of discovery into how a Canadian craftsman and an American designer, with a father and son generation gap, team up to revive the ancient art of Japanese woodblock prints (Ukiyo-e) by juxtaposing traditional art with pop culture icons such as Super Mario and Pokémon.
Ukiyo-e: The traditional art form known worldwide as the "Face of Japan" has over several hundred years inspired Van Gogh, Monet and Picasso to create their masterpieces. Today, there are less than 10 remaining craftsmen in Japan.
A Canadian craftsman, David Bull, has become one of the leading ukiyo-e artists in Japan. He gave up everything to come to Tokyo 30 years ago to learn the ancient craft from scratch. David teamed up with a young American illustrator and a video game nerd, Jed Henry, to revolutionize the business for global Asian art collectors and fans of Japanese games and pop culture. This became the Ukiyo-e Heroes project. You can view Ukiyoe Heroes' works here.
We follow the making-of of their new print and witness the miraculous collaboration of the two contrasting artists: old-school and new-school, artisanal and digital, who need each other to create inspirational for a global audience. The film also feature iconic Japanese craftsmen who work with them, including IWANO Ichibei, who is the 8th generation handmade Japanese paper grand master.
In conjunction with our current gallery exhibition, Hiroshige's "Edo Hyaku": Perspectives of Landscape Ukiyo-e Prints".
---
Related Programming:
Hiroshige's "Edo Hyaku": Perspectives of Landscape Ukiyo-e Prints in Portrait Layout
"Edo Hyaku", One Hundred Famous Views of Edo 名所江戸百景 (Meisho Edo Hyakkei) is a series of over one hundred woodblock prints designed by Hiroshige (1797–1858) , which began to be published in 1856 and was completed in 1859 after Hiroshige's death. The current edition of the exhibition focuses on the theme of Boats and Bridges. Featuring original pieces from the Royal Ontario Museum.
Edo Hyaku Talk Series – Part II: Boats on Rivers, Canals, and Edo Bay
Friday, December 2, 6:00 PM – 7:30 PM (ET)
In-Person Talk Event at the JFT Event Hall | Free Admission | RSVP Required
Conducted by Toshi Aoyagi, Program Officer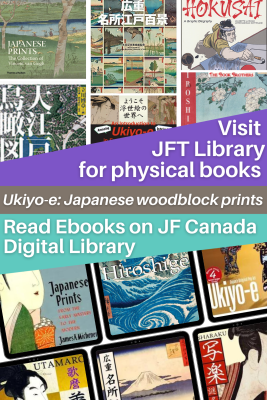 Check Out JFT Library's Books on Ukiyo-e (Japanese woodblock prints) before or after Gallery Visit!
Want to dive deeper into the world of Hiroshige's art? Learn more about Hiroshige, the history of ukiyo-e and other ukiyo-e artists by checking out JFT library's list of physical books and ebooks before or after visiting our current Gallery exhibition, Hiroshige's "Edo Hyaku"!
Apply for a new library card or renew your expired card here.
---
---