Noh Photography Exhibition

October 15th, 2013

-

January 31st, 2014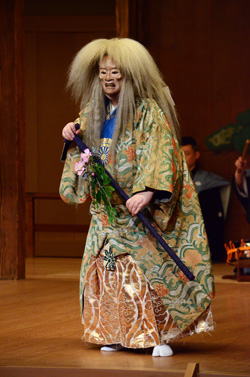 Yokohama Noh Theatre Photography Exhibition
Zeami (1363–1443?) is the greatest playwright and theorist of the Japanese Noh theatre. He and his father, Kan'ami (1333–84), were the creators of the Noh drama in its present form. In the fall of 2013, the 650th anniversary of Zeami's birth, the Yokohama Noh Theatre chose three pieces written by Zeami (about a young warrior, the female spirit of an iris flower, and a court lady in old age) and entrusted them to the three most highly regarded Noh actors of today from different generations. It is typical of the Yokohama Noh Theatre that such an artistic direction is clearly addressed. This series examines Zeami's own description in his essay "The Transmission of the Flower of Acting Style" that the actors must choose the appropriate repertoire for their physical ages because their attraction as performers changes through the stages of their life span, such as youth, maturity, and old age.
The Yokohama Noh Theatre is a municipal arts centre located in Kamonyama Park overlooking the port area. It was built and has been operated by the city of Yokohama and since its opening in 1996, the Yokohama Noh Theatre has made a reputation as an active performing arts organizer with its clear direction and openness to the local community. In 2004, the Theatre won the Noh world's most prestigious award – the Saikasho – for "demonstrating a new working model for a Noh theatre for a new age." It is also the recipient of the 2006 JAFRA Award for innovation in public-sector cultural facilities.
In this photography exhibition, the works by Yoshiaki Kanda introduce the productions of the Yokohama Noh Theatre. Centring on the Noh theatre, the exhibition includes the Kyogen, a comical theatre style accompanying Noh performances. The photography series also includes the Theatre's expanded artistic collaboration with other traditional performing arts, such as Okinawan dances.
Several stage photos by Yoshiaki Kanda will be paired with the images of the costumes worn in each work. These costumes are another unique collaboration by the Yokohama Noh Theatre. The Yamaguchi Noh Costume Institute in Kyoto provides the costumes to the Theatre for all its productions. These costumes are reconstructed in the meticulously traditional method following strict historical research. Enjoy the splendour of an artistic inspiration transcending hundreds of years and reaching us in the 21st century!
The Japan Foundation, Toronto
131 Bloor Street West, 2nd floor of The Colonnade
Saturday opening dates :October 19, November 2, 16, December 7, January 11& 25
Closed: Other Saturdays and Sundays
November 11 (Remembrance Day)
Christmas and New Year holidays: December 21, 2013 to January 5, 2014
ADMISSION FREE
www.jftor.org 416.966.1600 x229
---
---