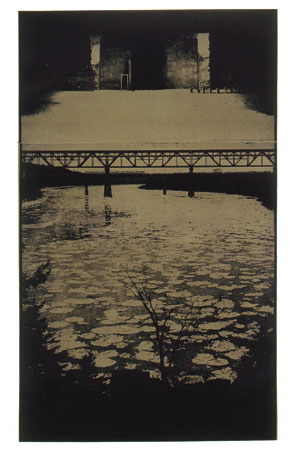 A Print Exhibition
co-presented by University of Alberta and The Japan Foundation
November 5, 2014 – January 29, 2015
The Japan Foundation, Toronto proudly presents Threshold, an exhibition featuring the artwork of Ryoji Ikeda and Walter Jule, two pioneers in the field of printmaking and photography. From Tokyo, Japan and Alberta, Canada respectively, Ikeda and Jule are uniquely compatible. A glance at these artists' chronologies reveals their mutual integration of innovative printmaking processes in conjunction with traditional Japanese techniques. Both Ikeda and Jule draw inspiration from Eastern philosophy, enacting the themes of time, light, and various states of being. Ikeda and Jule met in 1985, and their collaborative efforts, as artists, friends and teachers, have progressed alongside their personal development. Please join the Japan Foundation, Toronto in welcoming the first joint exhibition of Ryoji Ikeda and Walter Jule. Threshold, a showcase of creative partnership, will seek to help spread the universal spirit of art.
image: Ochiishi Nemuro and the North Saskatchewan River, Ryoji Ikeda