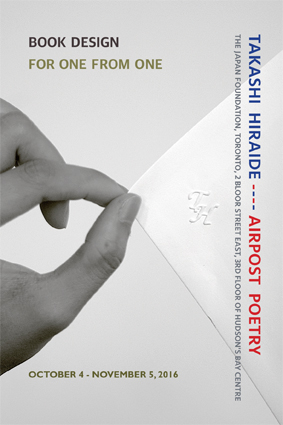 TAKASHI HIRAIDE—-AIRPOST POETRY
BOOK DESIGN FOR ONE FROM ONE
October 4 – November 5, 2016
The Japan Foundation, Toronto
Free admission
The Japan Foundation, Toronto is proud to present TAKASHI HIRAIDE—-AIRPOST POETRY Book Design for One from One. Takashi Hiraide is an official invitee of the 2016 International Festival of Authors at Harbourfront Centre (October 20-30).
One of the foremost poets of the Japanese post-WWII generation, Hiraide has written many important works including For the Fighting Spirit of the Walnut, which received the 1982 Emerging Talent Award in the Ministry of Culture Awards for the Promotion of Arts. Kenzaburo Oe commended his works as "an experiment that gives birth to a new kind of prose from within poetry," and truly, Hiraide's activities go beyond the realm of poetry and extend into the fields of novels, travel writing and essays.  His first novel, The Guest Cat, was a 2014 New York Times bestseller, and has been translated into more than 10 languages.
Hiraide also has a long and distinguished career in book design and binding. Seihaku Irako, a book authored and designed by Hiraide, won awards in Japan and was shortlisted for The World's Most Beautiful Book Award at the Leipzig Book Fair.
This exhibit offers an overview of Hiraide's activities, including early works from the 1970s-1980s; books written by other authors but designed by Hiraide; books written by Hiraide but designed by another famous book designer, Nobuyoshi Kikuchi; translated editions of The Guest Cat; and four series of works tied to the theme of post-mail:
<<via wwalnuts>>  Books crafted by Hiraide and mailed directly to readers. Launched in 2010,   23 issues have been published to date.
<<only-box>> Boxes printed with poetry and decorated with stamps, designed for storing the via wwalnuts  series.
<<private print postcard>> Limited edition photo postcard and poetry series.
<<crystal parcel>>  Literary works written and designed by the author, then personally wrapped in a transparent material and sent to the reader.
The <<only-box>> and <<private print postcard>> items on display were created in Japan and mailed to Toronto especially for this exhibit.  New works will continue to arrive and be added to the collection during the exhibition period. The Japanese stamps, postmarks and even damage incurred during shipping are all part of the artwork.
Hiraide's book design is not only about appearance; it suggests new ways for books to exist.  Please enjoy Hiraide's experimentation with books that transcend existing genres and systems.
Emi Iwanaga
Executive Director
Japan Foundation, Toronto
Monday: 11:30 – 6:30
Tuesday: 11:30 – 4:30
Wednesday: 11:30 – 4:30
Thursday: 11:30 – 6:30
Friday: 11:30 – 4:30
Select Saturdays: 11:00 – 4:00
Saturday openings: October 15, 29; November 5
Closed: Sundays and other Saturdays, October 10 (Thanksgiving)
---
Takashi Hiraide is a poet, critic and book designer. He has published books of various genres and forms from poetry to prose and from poetics of sports to criticism on arts, receiving numerous prizes. Kenzaburo Oe, Nobel Prize-winning novelist, highly praised Hiraide's writings for providing a new direction for prose within the field of poetry.His first novel The Guest Cat, became a New York Times and Sunday Times bestseller in 2014.