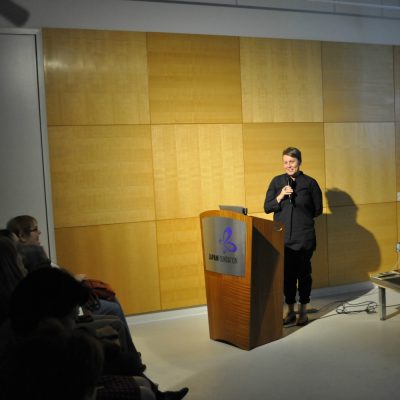 Monday, July 4 & Tuesday, July 5
The first Monday and Tuesday in July marked the first time we have hosted a public event in our new Event Hall since relocating. For our inaugural events, we were pleased to present 2 talks by Hungarian ceramic artist and expert in unglazed pottery Dr. Julia Nema which were related to the on-going Gallery Yakishime – Earth Metamorphosis ceramics exhibition.
On night one, Dr. Nema delivered a talk entitled The Taste of Clay, in which she provided a background for yakishime production and appreciation. The talk was based largely on her own experiences visiting kilns in northern Japan while a Japan Foundation Fellow, and she was able to put faces to the pieces with candid photos from her travels. She also managed to get many mouths watering with many shots of delicious-looking Japanese delicacies adorning beautiful dishes. Following her talk, Dr. Nema offered patrons a guided tour of the exhibition, which spontaneously turned into a Q & A session when she was surrounded by inquisitive ceramists and fans of ceramics.
Night two's talk, Born of Fire, focused on the similarities and differences between the European constructivist aesthetic Dr. Nema first grew up with, and the Japanese unglazed ceramic aesthetic she encountered as her knowledge of ceramics deepened. In particular, she discussed Hungarian modernist master Laszlo Moholy-Nagy and the way the images produced through his photograms seem to echo the markings and patternation of yakishime.
The talk was followed by a panel discussion between Dr. Nema and two local ceramic artists, Chiho Tokita and Chari Cohen. The three potters discussed their different influences, noting how remarkable it is that three individuals from such distinct backgrounds– a Hungarian, a New Yorker and an Albertan prairie girl– should all come together over Japanese pottery.
Finally, a special thank you to ceramists Bruce Cochrane and Marcelina Salazar, both of whom invited Dr. Nema to visit their kilns. A bad sense of direction caused us to miss Bruce's firing, but we were not to late to enjoy a tour of his studio and workshop, not to mention the amazing vista from his workshop window. At Marcelina's, we were treated to some delicious ice tea, an encounter with some friendly pigs, and a peek at her completed pieces and works in progress.