20 Authors of Japanese Literature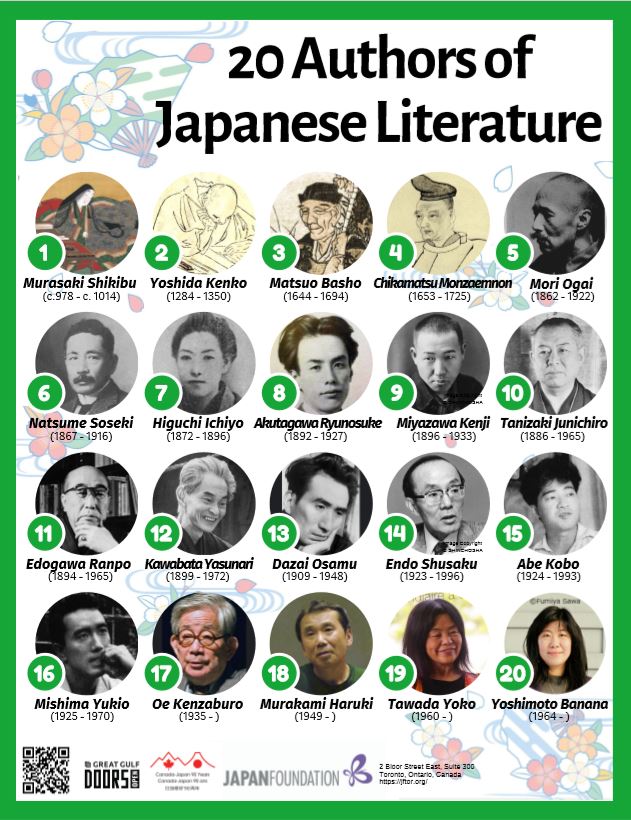 *Note: The following list follows the traditional Japanese order of writing full names with surname first followed by given name without comma.

1.Murasaki Shikibu (c. 978 – c. 1014)
Murasaki Shikibu is a representative author of classic Japanese literature. Considered the world's first novel by many, her Tales of Genji depicts court life during the Heian Period (794 – 1185) in detail. Her works are key examples of classical Japanese aesthetics, style and literary virtuosity.
Notable Works: Tales of Genji; The Diary of Lady Murasaki

2.Yoshida Kenko (1284 – 1350)
Yoshida Kenko is the author of one of three iconic zuihitsu (a genre in Japanese literature of loosely connected personal essays) from the Kamakura period (1185-1333). His writings often contain themes of impermanence and nostalgia in a reflective and retrospective voice.
Notable Work: Tsurezuregusa
3.Matsuo Basho (1644 – 1694)
Matsuo Basho is a master of Haiku poems from the Edo period (1603 – 1868). A classic within Japanese poetry, he is praised for encapsulating the natural environment and ordinary scenes in a minimalist form.
Notable Works: The Narrow Road of Deep North; Account of Exposure to the Fields
4.Chikamatsu Monzaemon (1653 – 1725)
Chikamatsu Monzaemon was a popular dramatist of puppet theatre and kabuki theatre from the Edo period (1603 – 1863). His works include historical romances and domestic tragedies, and often explore the conflict between duty and passion.
Notable Works: The Love Suicides at Sonezaki; The Love Suicides at Amijima; The Battles of Coxinga
5.Mori Ogai (1862 – 1922)
Mori Ogai is one of the leading writers of modern Japanese literature from the Meiji period (1862-1922). Highly educated, he was one of the first to adapt Western literary conventions and romanticism into classical Japanese literature at a time of great change in Japanese history.
Notable Works: The Dancing Girl; Vita Sexualis; The Wild Geese

6.Natsume Soseki (1867 – 1916)
Natsume Soseki is one of the most iconic authors of Japanese literature from the Meiji period (1862 – 1922). His satires and tales of ordinary people capture the spirit of the Meiji period – a time of great turbulence and rapid change towards modernization. Common themes found in his works include conflicts between duty and desire, personal estrangement and rapid industrialization.
Notable Works: I am a Cat; Botchan; Kokoro
7.Higuchi Ichiyo (1872 – 1896)
One of prominent female writers during the Meiji period (1862 – 1922), Higuchi Ichiyo is unique among her contemporaries in that her works are based on classical Japanese rather than Western literary models. She often shines light to the sufferings of characters from low social backgrounds with great compassion and sensitivity.
Notable Works: Takekurabe; The Thirteenth Night; Nigorie
8.Akutagawa Ryunosuke (1892 – 1927)
Called the father of Japanese short stories, Akutagawa Ryunosuke is one of the foremost writers from the Taisho era (1912 – 1926). Representative of neo-realism in the mid-1910s, Akutagawa often reinterprets classical works with modern sensibilities. In many of his works, Akutagawa explores the formation of cultural identity and universality of literature.
Notable Works: Rashomon; The Nose; Hell Screen

9.Miyazawa Kenji (1896 – 1933)
Miyazawa Kenji is a beloved poet and author of children's literature from the late Taisho era (1912 – 1926). A devout Buddhist and intellectual, his stories offer a unique cosmic perspective and ecological vision. His works are both fantastical and imaginative and many of his poetry are written in colloquial Japanese and include words from various dialects and languages.
Notable Works: Night on the Galactic Railroad; Gauche the Cellist; The Restaurant of Many Orders

10.Tanizaki Junichiro (1886 – 1965)
Tanizaki Junichiro is one of the major authors of modern Japanese literature. A prominent writer of neo-romanticism in Japanese literature, his works include tales of love, sexuality and destructive erotic obsession. His stories are often set within the context of juxtaposing Western and Japanese traditions.
Notable Works: Naomi; The Makioka Sisters; In Praise of Shadows
11.Edogawa Ranpo (1894 – 1965)
Edogawa Ranpo is the leading figure in the development of Japanese horror, mystery and detective fiction. Heavily influenced by the writings of Edgar Allan Poe and Arthur Conan Doyle, Edogawa Ranpo's narrative styles are characterised by logical reasoning, grotesque nonsensical imagery and psychological horror.
Notable Works: The Case of the Murder on D. Hill; The Stalker in the Attic; The Human Chair
12.Kawabata Yasunari (1899 – 1972)
Kawabata Yasunari is a recognized novelist from the Showa era (1926 – 1989) and the first Japanese author to win the Nobel Prize in Literature in 1968. His works follow a lyrically narrative prose of neo-sensualism similar to traditional Japanese literary aesthetics. His works often explores the theme of beauty and sadness of life, as well as the evanescence of the old past.
Notable Works: Thousand Cranes; Snow Country; The Sound of the Mountain
13.Dazai Osamu (1909 – 1948)
Dazai Osamu is one of the foremost authors of the Showa era (1926 – 1989). He employs a semi-autobiographical style in his works, offering a glimpse into his personal life. Many of his most popular works reflect the era in which he lived as he explores concepts such as loss of purpose and coping with defeat and decline.
Notable Works: No Longer Human; Setting Sun; Run, Melos!
14.Endo Shusaku (1923 – 1996)
Endo Shusaku is a unique figure in Japanese literature whose works are written from the viewpoint of a Japanese Roman Catholic. He examines the relationship between the East and West through Christian perspectives. Major themes found in his works include religion, stigmatization of outsiders and moral dilemmas in life.
Notable Works: Silence; Final Martyrs; Deep River
15.Abe Kobo (1924 – 1993)
One of the most prominent authors of 20th century Japanese literature, Abe Kobo is a writer of absurdist fiction and surrealism. He is one of the leading figures of the modernist literary movement in Japan. Often compared to Franz Kafka, he employs a melancholic and fatalistic narrative in his works and often explores themes of alienation and loneliness.
Notable Works: A Woman in the Dunes; The Box Man; The Ruined Map
16.Mishima Yukio (1925 – 1970)
Mishima Yukio is considered one of the most important Japanese authors of the 20th century.
His works are characterised by its fusion of traditional Japanese and modern Western literary styles. His works often explore the unity of beauty, eroticism and death with a nihilistic perspective.
Notable Works: The Temple of the Golden Pavilion, Confessions of a Mask, Spring Snow
17.Oe Kenzaburo (1935 – )
Oe Kenzaburo is a major figure in contemporary Japanese literature. He won the Nobel Prize in literature in 1994 and often explores political, social and philosophical issues of contemporary society. Common themes in his works include non-conformism, existentialism and dignity of human beings.
Notable Works: A Personal Matter; The Silent Cry; Changeling
18.Murakami Haruki (1949 -)
One of the most popular Japanese authors today, Murakami Haruki is a world-renowned novelist of magical realist fiction. Influenced by Western writers, he often uses surrealistic, melancholic and fatalistic narratives to explore themes of alienation, loneliness and understanding of the core of human identity.
Notable Works: Norwegian Wood; 1Q84; Kafka on the Shore
19.Tawada Yoko (1960 -)
A talented author of fiction and poetry, Tawada Yoko writes in both Japanese and German. Her works often highlights the relationship between words and reality. She explores themes of language and cultural assimilation and travelling across boundaries with elements of magical realism.
Notable Works: Memoirs of a Polar Bear; The Emissary; The Bridegroom was a Dog

20.Yoshimoto Banana (1964 -)
Yoshimoto Banana is an internationally renowned Japanese author of contemporary literature. She uses a distinctive narrative style that focuses on dialogues to tell stories about youth and urban existentialism. She often explores the boundaries between imagination and reality through use of unconventional and unusual characters.
Notable Works: Kitchen; Amrita; Asleep