This summer celebrate pride with us by watching four films in the PRIDE FILM SERIES that explores the diversity and strength of  LGBTQ in Japan.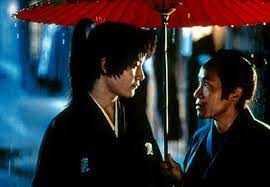 June 5, 2018 6:30 PM   &  June 23, 2018 3:00 PM 
Directed by Nagisa Oshima [1999] 100 min.
Taboo was the last film by Japanese master director Nagisa Oshima. The films story unveils some of the same-sex relations in the Shinsengumi during the mid-19th century Bakumatsu period, the end of the Samurai era. Starring Ryuhei Matsuda, Takeshi Kitano and Tadanobu Asano, with music by Ryuichi Sakamoto.
June 22, 2018 6:30 PM  &  July 12, 2018 1:00 PM 
Directed by Ryosuke Hashiguchi [2001] 135 min.
Gay couple Naoya and Katsuhiro receive a proposition from Asako, who they met by chance: would they father her child through artificial insemination? As they clash with their families, Naoya and Katsuhiro find their own new vision of family.
Starring Kataoka Reiko, Takahashi Kazuya, Tanabe Seiichi, 2001
June 26, 2018 6:30 PM
July 20, 2018 6:30 PM
Directed by Sachi Hamano
Delightful romantic complications are stirred up with the arrival of a 75-year-old Casanova, Mr. Miyoshi, at a senior citizens' apartment building. Mrs. Miyano and her five other apartment mates, who range in age from 69 to 91, find their lives forever transformed by his flattery and sexual attentions. Dauntlessly they break out of their shells, reclaiming their own desires.
KAKERA A PIECE OF OUR LIFE カケラ
July 20, 2018 6:30 PM
Directed by Momoko Ando
A film adaptation of the comic "Love Vibes" by popular manga artist, Erika Sakurazawa, Kakera stars Hikari Mitsushima, from the multi-award winning film Love Exposure (Ai no mukidashi), in the lead. The film was released at the same time in Tokyo and the Institute of Contemporary Arts in London, making a simultaneous premiere in Japan and England. Music is by James Iha.
College student Haru (Hikari Mitsushima) is stuck in an unfulfilling relationship with a boyfriend that's just not right for her. One day, Rico (Eriko Nakamura), a "medical artist" who makes prosthetic body parts, strikes up a conversation with her. Rico believes that gender has nothing to do with love. The two quickly become intimately involved…