Legendary Loyalty: The 47 Ronin in Japanese Prints

November 15th, 2016
|
Recurring Event
(See all)
An event every week that begins at 12:00 am on Monday, Tuesday, Wednesday, Thursday and Friday, repeating until December 16th, 2016
Cost: Free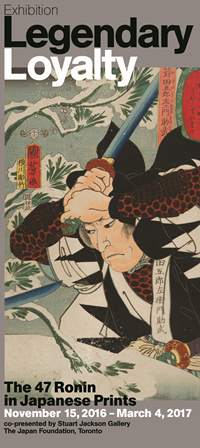 Legendary Loyalty
The 47 Ronin in Japanese Prints
co-presented by Stuart Jackson Gallery and The Japan Foundation
November 15, 2016 – March 4, 2017
The Japan Foundation, Toronto, with the Stuart Jackson Gallery, Toronto, is proud to co-present original 18th – 19th century woodblock print illustrations of theatrical performances of the story of Chushingura, and artistic depictions of the actual ronin (masterless samurai).
Three centuries ago, a series of events culminating on the snowy night of the 14th day of the 12th month, 1702 (January 30, 1703, in today's calendar) would shake and alter Japan and the world's perception of that country.
The story of the 47 ronin and their vendetta is one of the most popular Japanese stories of "legendary loyalty" and revenge. It all began in 1701 when Lord Asano of Ako attempted to kill Lord Kira, a senior official at the Shogun's palace. His motive is unknown – in theatrical versions it is because Kira has insulted Asano.  Kira was only wounded, but as it was such a serious offence, Asano's execution was ordered and he committed seppuku (ritual suicide).  Asano's properties were confiscated and his retainers became ronin.
These 47 ronin, under the leadership of Oishi Kuranosuke, planned revenge against Lord Kira.  A year later, they attacked his mansion and engaged in a fierce battle against his retainers. The ronin captured and killed Kira, laying his severed head in front of Lord Asano's grave at Sengakuji Temple.  They surrendered to the authorities, were condemned to death, and were allowed to perform seppuku. Their graves are by their master's.
The story immediately captivated the Japanese public at the time. Within days of the deaths of the ronin, a kabuki play based on the story was performed. The play was closed down after three days because stories about current events were prohibited. Other plays based on the ronin's story kept reappearing until 1748 when a fictionalized drama, Kanadehon Chushingura, was successfully performed at the puppet theatre and later at the kabuki. Chushingura as it is now better known, has become one of the most popular kabuki plays ever written, and is performed every December.  Enthusiasm for the 47 ronin saga has endured through the years and the story has reappeared countless times in theater, film, literature, and television.
*Japanese proper names are listed with the family name first, given name second.
GALLERY HOURS
Mon 11:30 am – 6:30 pm EXTENDED HOURS
Tues 11:30 am – 4:30 pm
Wed 11:30 am – 4:30 pm
Thurs 11:30 am – 6:30 pm EXTENDED HOURS
Fri 11:30 am – 4:30 pm
Saturday openings: 11:00 am – 4:00 pm
November 19, December 3, 17
January 7, 21, February 4, 18, March 4
Closed: Other Saturdays and Sundays
Closed for Christmas and New Year: December 18 to January 3
February 20 (Family Day)
ADMISSION: FREE
---
---