Hush! (Pride film screening)

June 29 @ 6:00 pm

-

8:30 pm

EDT

Cost: Free
Hush!
Thursday, June 29, 6:00PM (ET) at JFT Event Hall
(Doors open 5:30PM)
Directed by HASHIGUCHI Ryosuke • 2001 • LGBTQ / Comedy / Drama • 135 minutes • Presented in Japanese with English subtitles • Free Admission • Trailer
Naoya and Katsuhiro are boyfriends, new in their relationship. Things are uneven at first—Naoya is open and free while Katsuhiro is cautious and closeted—but nothing compares to the chaos that arrives when Asako, a troubled woman with a history of psychiatric problems, abortions, and casual sex, asks Katsuhiro to conceive a child with her.
While the couple navigates the implications of this unexpected proposal, they are forced to confront their conflicting understandings of what it means to be gay and in a committed relationship. A landmark piece of Japanese LGBTQ cinema by pioneering director HASHIGUCHI Ryosuke, Hush! humorously and poignantly upends the traditional Japanese genre of the family drama to offer a deeply human story about three people doing their best to be true to themselves.
Awards History
2002 Kinema Junpo Award for Best Actress (KATAOKA Reiko)
2002 Hochi Film Award for Best Actor (TANABE Seiichi)
2003 Blue Ribbon Award for Best Actress (KATAOKA Reiko)
2003 Yokohama Film Festival Best Film Award
2003 Yokohama Film Festival Best Director Award (HASHIGUCHI Ryosuke)
2003 Yokohama Film Festival Best Actor Award (TANABE Seiichi)


Filmmaker Biography:
HASHIGUCHI Ryosuke, born in Nagasaki Prefecture in 1962, began directing 8mm-films while still at high school. After studying film in Osaka, he started working as a director of TV productions. A subtle dramatist and chronicler of gay subculture in Japan, Hashiguchi won the PIA Film Festival scholarship for his short film, A Secret Evening (Yūbe no Himitsu, 1989), and thus was able to fund his first low-budget feature, A Touch of Fever (Hatachi no binetsu, 1993). This bleak yet compassionate story of the lives of teenage hustlers in Tokyo was followed by Like Grains of Sand (Nagisa no Shindobaddo, 1995), an appealingly quirky rites-of-passage movie about a high school boy's crush on his best friend. Both films were intelligent examinations of the fluidity of youthful sexual identity. Hashiguchi's next work was Hush! (Hasshu, 2001), a melancholy comedy about the triangular relationship between a closeted, thirty-something gay man, his partner, and the unhappy woman who wants him to father her child. Looser and freer in style than his earlier films, it hinted that homosexuality might be liberating in the context of Japan's restrictive family structures.
From Director Hashiguchi:
What I was trying to do was to portray characters at that juncture in their lives, a point at which they went through bad experiences but want to overcome those difficulties. I wanted to show the flexibility and the determination these people have to not only keep moving forward, but also to hold on to the hope that they can still achieve something in their lives.




Related Programming: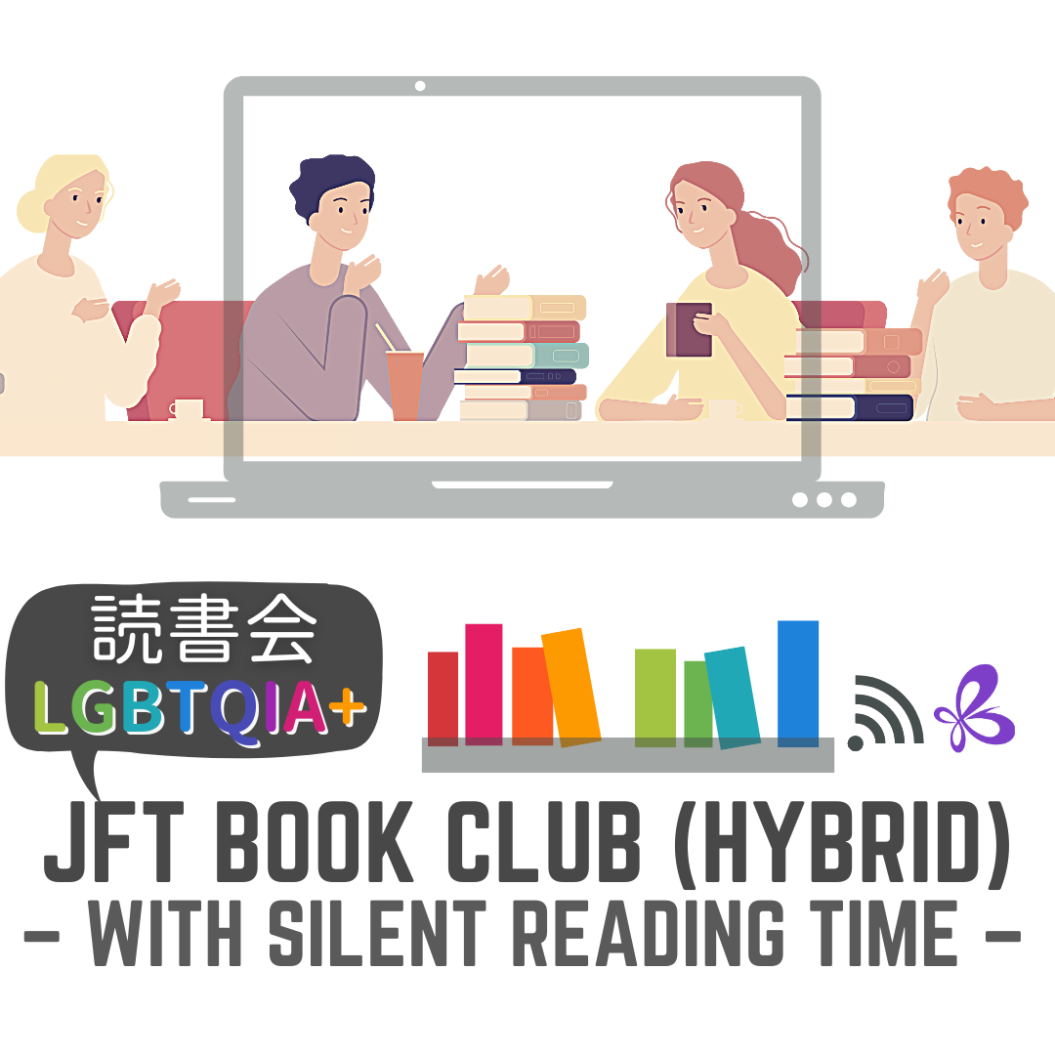 JFT Book Club (Hybrid) – With Silent Reading Time – LGBTQIA+ Books
Tuesday, June 20, 6:00PM – 7:30PM (ET)
JFT Library is starting a new type of hybrid book club meeting where book lovers are invited to read a book in silence in the library (or wherever they want if participating virtually) and engage in optional discussion! The theme for the upcoming book club is "LGBTQIA+" in honor of Pride Season in June. This hybrid gathering aims to be an inclusive space where individuals of all backgrounds can connect and learn. Whether you identify as LGBTQIA+ or simply wish to support and understand this vibrant community, we encourage you to join us to celebrate the diverse narratives and important themes related to LGBTQIA+ experiences through Japan-related literature!
Step into the world of LGBTQIA+ with Japan-related literature and manga to celebrate Pride Month!
Whether you identify as LGBTQIA+ or wish to support and understand this vibrant community, check out JFT Library's LGBTQIA+ Book Lists to discover the diverse narratives and important themes related to LGBTQIA+ experiences!
Physical books on LGBTQIA+ or with LGBTQIA+ character(s)
Ebooks & audiobooks on LGBTQIA+ or with LGBTQIA+ character(s)
To get a new JFT library card or to renew your existing card, please follow the instructions found here.
---
---