JFT Book Club (Hybrid) – With Silent Reading Time – LGBTQIA+ Books

June 20 @ 6:00 pm

-

7:30 pm

EDT

Cost: Free
Thank you to all those who participated in JFT Book Club (Hybrid) – With Silent Reading Time – LGBTQIA+ Books!
Sharing some comments from our participants!
"Wonderful experience, loved discover new manga recommendations and also hearing others opinions on their chosen books."
—Prerna
"Had a lovely time tonight! Thank you! :)"
—Anonymous
Please continue to check the JFT's website and newsletters for future book club information.
Check out the list of books that were selected by the book club participants below or download the full list PDF file with the books synopsis.
Title
Author
Genre
BL metamorphosiss [Physical book]
TSURUTANI Kaori
Manga, Boys' Love, Slice of Life
Boy Meets Maria*
*Not in JFT Library Collection
PEYO
Manga, Boys' Love, Drama, LGBTQIA, Romance
Boys Run the Riot [Physical book]
GAKU Keito
Manga, Drama, School Life, LGBTQIA+, Coming-of-age
Breast and Eggs [Physical book or Ebook]

夏物語 [Physical book]
KAWAKAMI Mieko
Novel, Psychological Fiction
Earthlings [Physical book or Ebook]

地球星人 [Physical book]
MURATA Sayaka
Novel, Magical Realism, Coming-of-Age, Psychological Suspense
Confessions of a Mask [Physical book]
MISHIMA Yukio
Novel, Bildungsroman, LGBTQIA+
カナダのセクシュアル・マイノリティたち : 人権を求めつづけて
= Canada's sexual minorities : requirements of human rights [Physical book]
Saunders Miyamatsu, Keiko
サンダース 宮松 敬子
Nonfiction, Sociology of Marriage & Family
Our Dreams at Dusk [Physical book]

しまなみ誰そ彼 [Physical book]
KAMATANI Yuhki
Manga, Coming-of-age, Drama, LGBTQIA+, Slice of Life
Snakes and Earrings [Physical book]

蛇にピアス [Physical book]
KANEHARA Hitomi
Novel, Thriller, Psychological Fiction, Romance
Solo Dance [Physical book or Ebook]
LI Kotomi
Novel, Bildungsroman, Psychological Fiction, LGBTQIA+
Sputnik Sweetheart [Physical book or Ebook]

スプートニクの恋人 [Physical book]
MURAKAMI Haruki
Novel, Magical Realism, LGBTQIA+, Romance, Mystery, Suspense
Real World [Physical book or Ebook]
KIRINO Natsuo
Novel, Suspense, Thriller, Mystery
What to Listen for in Music*
*Not in JFT Library collection
Aaron Copland
Nonfiction, Music
*Check out more books from JFT Library's LGBTQIA+ Book Lists!
---
JFT Library is starting a new type of hybrid book club meeting where book lovers are invited to read a book in silence in the library (or wherever they want if participating virtually) and engage in optional discussion!
The theme for the upcoming book club is "LGBTQIA+" in honor of Pride Season in June. This hybrid gathering aims to be an inclusive space where individuals of all backgrounds can connect and learn. Whether you identify as LGBTQIA+ or simply wish to support and understand this vibrant community, we encourage you to join us to celebrate the diverse narratives and important themes related to LGBTQIA+ experiences through Japan-related literature!
---
WHY JOIN JFT BOOK CLUB "WITH SILENT READING TIME"?
Many of us simply want more time to read but cannot squeeze the time in, as we have too many distractions and interruptions in our daily lives to concentrate on reading. JFT Book Club with Silent Reading Time offers a sanctuary to indulge in the simple pleasure of reading, surrounded by fellow book enthusiasts who share your love for literature.
In addition, we provide an optional space for those who wish to connect and discuss their reading experiences with others. Engage in conversations at your comfort level and learn new perspectives from other book lovers from different cultural backgrounds that you wouldn't gain from reading alone! It's a safe space where your thoughts and impressions are valued, regardless of whether you choose to actively participate or quietly absorb the conversations around you.
We welcome both seasoned book club members and first-time participants to discover the joy of silent reading without the pressures of finishing an assigned book on time and/or participating in mandatory discussions.
If you have any questions or concerns, please don't hesitate to email us at library_jftoronto@jpf.go.jp.
---
HOW DOES THE UPCOMING JFT BOOK CLUB WORK?
Once you register for the event, find a book to read based on the criteria listed in WHERE YOU CAN FIND A BOOK TO READ? (see below) or from JFT Library's LGBTQIA+ Book Lists (physical books & ebooks/audiobooks)
You can choose to start reading the book of your choice before or on the day of the book club.
On the day of the event, we will meet via Zoom and in person at Japan Foundation Toronto Library (2 Bloor St E #300, Toronto, ON M4W 1A8 Canada). *Click here to check how to get to our Library.
We will start with a quick introduction & ice-breaking activity (*Light refreshments will be served for in-person participants)
1-hour Silent Reading Time: Participants will read the book they select anywhere in the library or wherever they want if participating virtually.
Optional Discussion Time: We will share what we have learned, what we think about the depiction of the LGBTQIA+ community(ies)/character(s), favorite moments from your chosen book, etc.
*There is no right or wrong answer. Different perspectives make the discussion more fun and vibrant!
---
WHERE YOU CAN FIND A BOOK TO READ?
A book to read can be either a physical book, ebook, or audiobook that meets the following criteria:

Theme: LGBTQIA+ (i.e., fiction, nonfiction, or manga about Japanese LGBTQIA+ community(ies); fiction, nonfiction, or manga portraying LGBTQIA+ community(ies)/character(s) written by Japanese author)
Language: The book can be written in any language (i.e. English, Japanese, French) but the book club will be in English

Participants can either select a book from the JFT Library's collection, or bring their own copy from home (can be a book not in JFT library collection if it meets the criteria above).
To get a new JFT library card or to renew your existing card, please follow the instructions found here.
---
Related Programming:
Hush! (Pride film screening)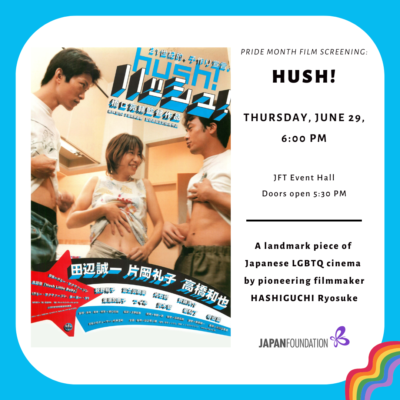 Thursday, June 29, 6:00PM (ET) at JFT Event Hall
In celebration of Pride Month, join us for a community film screening of the award-winning Hush!, a landmark piece of Japanese LGBTQ cinema directed by pioneering filmmaker HASHIGUCHI Ryosuke. Winner of several festival awards, Hush! was also an official selection at the 2002 Cannes Film Festival.
Naoya and Katsuhiro are boyfriends, new in their relationship. Things are uneven at first—Naoya is open and free while Katsuhiro is cautious and closeted—but nothing compares to the chaos that arrives when Asako, a troubled woman with a history of psychiatric problems, abortions, and casual sex, asks Katsuhiro to conceive a child with her.
---
Previous Book Clubs
---
---