JFT Book Club Online: The Woman in the Purple Skirt by Natsuko Imamura

February 9th, 2022 @ 4:30 pm

-

5:30 pm

EST

Cost: Free
For the upcoming JFT Book Club Online, we will discuss Natsuko Imamura's The Woman in the Purple Skirt (むらさきのスカートの女), an Akutagawa Prize-winning novel. Join our virtual conversation about this whimsical and mesmerizing book, moderated by Kris Kosaka (Columnist, The Japan Times).
RSVP: library@jftor.org
*Please be aware that space may be limited.
*Prior to the meeting, an email will be sent to you with a website link and log-in password to enter the online Zoom meeting.
If you have any questions or concerns, please don't hesitate to email us. New members are always welcome!
WHY JOIN JFT BOOK CLUB?
You can read a book by yourself, but when you read something thought-provoking or moving, it's natural to want to discuss it with someone else. (And Imamura is known for writing characters who are a little out of the ordinary!) JFT Book Club provides an exciting platform to meet other book lovers from different cultural backgrounds, get inspired by a diversity of experiences and opinions, and develop a richer understanding of the book and contemporary Japan that you wouldn't gain from reading alone. What's more, we will be having an amazing moderator Kris Kosoda, who is great at stimulating and facilitating the discussion.
---
WHERE YOU CAN FIND THE BOOK?
The Woman in the Purple Skirt by Natsuko Imamura is available for circulation on JFT OverDrive. Sign in with your library card to borrow or to place a hold. To get a new library card or to renew your existing card, please follow the instructions found here.
For more information about the book, click here.
---
ABOUT THE BOOK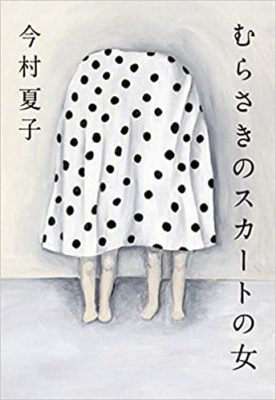 The Woman in the Purple Skirt (むらさきのスカートの女)
Written by Natsuko Imamura
Translated by Lucy North
Penguin Publishing Group, 2021
A bestselling, prizewinning novel by one of Japan's most acclaimed young writers, for fans of Convenience Store Woman, Eleanor Oliphant Is Completely Fine, and the movies Parasite and Rear Window.
I think what I'm trying to say is that I've been wanting to become friends with the Woman in the Purple Skirt for a very long time…

Almost every afternoon, the Woman in the Purple Skirt sits on the same park bench, where she eats a cream bun while the local children make a game of trying to get her attention. Unbeknownst to her, she is being watched–by the Woman in the Yellow Cardigan, who is always perched just out of sight, monitoring which buses she takes, what she eats, whom she speaks to.

From a distance, the Woman in the Purple Skirt looks like a schoolgirl, but there are age spots on her face, and her hair is dry and stiff. She is single, she lives in a small apartment, and she is short on money–just like the Woman in the Yellow Cardigan, who lures her to a job as a housekeeper at a hotel, where she too is a housekeeper. Soon, the Woman in the Purple Skirt is having an affair with the boss and all eyes are on her. But no one knows or cares about the Woman in the Yellow Cardigan. That's the difference between her and the Woman in the Purple Skirt.
Studiously deadpan and chillingly voyeuristic, and with the off-kilter appeal of the novels of Ottessa Moshfegh, The Woman in the Purple Skirt explores envy, loneliness, power dynamics, and the vulnerability of unmarried women in a taut, suspenseful narrative about the sometimes desperate desire to be seen.
"A taut and compelling depiction of loneliness and obsession." –Paula Hawkins, #1 New York Times bestselling author of The Girl on the Train
"[It] will keep you firmly in its grip." –Oyinkan Braithwaite, bestselling author of My Sister, the Serial Killer
"The love child of Eugene Ionesco and Patricia Highsmith." –Kelly Link, bestselling author of Get in Trouble
---
ABOUT THE AUTHOR
Natsuko Imamura is one of Japan's most exciting writers. Nominated three times for the Akutagawa Prize, the most prestigious literary award in Japan, she won it in 2019 for The Woman in the Purple Skirt. A self-professed fan of Yoko Ogawa's, she has been called "a second Sayaka Murata" (the author of Convenience Store Woman) for her use of acerbic humor and satire. Born in Hiroshima, she now lives in Osaka with her husband and their daughter. Like the main character in The Woman in the Purple Skirt, she has worked in a hotel as a housekeeper.
---
ABOUT THE MODERATOR
Writer Kris Kosaka moved to Japan in 1996 to accept a position teaching high school English at an international school. She fell in love with the country and soon met her future husband, Makoto. They made their home in Kamakura, where Kris continued teaching and writing while raising their two children. Although temporarily in Tampa, FL (her hometown) while their daughter completes her high school education in the States, Kris's heart is in Japan. In her spare time, Kris enjoys reading and running. Kris is a frequent contributor to The Japan Times, and a regular columnist for their Books pages.
---
Previous Book Clubs
---
---