JFT Book Club Online: Colorful by Eto Mori, moderated by Kris Kosaka

November 10th, 2021 @ 4:30 pm

-

5:30 pm

EST
For the upcoming JFT Book Club Online, we will discuss Colorful (カラフル), a beloved and bestselling classic in Japan, written by Eto Mori.
Special message from author Eto Mori will be shared exclusively with JFT Book Club members!
Wednesday, November 10, 2021 @ 4:30PM – 5:30PM (ET)
Colorful by Eto Mori is available for circulation on JFT OverDrive.
Sign in with your library card to borrow or to place a hold. To get a new library card or to renew your existing card, please follow the instructions found here.
JFT Library Book Club will be conducted through Zoom. Please email the library at library@jftor.org to reserve your seat.

Prior to the meeting, an email will be sent to you with a website link and log-in password to enter the online Zoom meeting.
Please be aware that space may be limited.
If you have any questions or concerns, please don't hesitate to contact us via email.
Thank you for participating!
---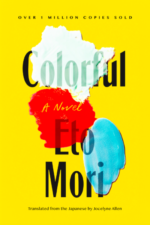 Colorful by Eto Mori
Translated by Jocelyne Allen
Counterpoint Press, 2021
"Congratulations, you've won the lottery!" shouts the angel Prapura to a formless soul. The soul hasn't been kicked out of the cycle of rebirth just yet–he's been given a second chance. He must recall the biggest mistake of his past life while on 'homestay' in the body of fourteen-year-old Makoto Kobayashi, who has just committed suicide. It looks like Makoto doesn't have a single friend, and his family don't seem to care about him at all. But as the soul begins to live Makoto's life on his own terms, he grows closer to the family and the people around him, and sees their true colors more clearly, shedding light on Makoto's misunderstandings.
Since its initial release over twenty years ago, Colorful has become a part of the literary canon, not only in Japan–where it has sold over a million copies–but around the world, having been translated into several different languages. Now, Eto Mori's beloved classic is finally available in English.
---
Eto Mori has been a literary star in Japan for over thirty years. She has won numerous major awards in Japan including the Naoki Prize, one of Japan's most prestigious awards for popular fiction. Colorful has been translated into seven different languages, and adapted into three films. Colorful is her first novel to be translated into English. She lives in Tokyo, Japan.
Jocelyne Allen has translated hundreds of short stories, novels, and manga, including the Eisner Award-winning titles Frankenstein by Junji Ito and Onward Toward Our Noble Deaths by Shigeru Mizuki. She splits her time between Toronto and Tokyo.
---
Writer Kris Kosaka moved to Japan in 1996 to accept a position teaching high school English at an international school. She fell in love with the country and soon met her future husband, Makoto. They made their home in Kamakura, where Kris continued teaching and writing while raising their two children. Although temporarily in Tampa, FL (her hometown) while their daughter completes her high school education in the States, Kris's heart is in Japan. In her spare time, Kris enjoys reading and running. Kris is a frequent contributor to The Japan Times, and a regular columnist for their Books pages.
---
Toronto International Festival of Authors
Friday, October 29, 4:30 PM (EDT)
Eto Mori introduces her book Colorful on the virtual stage of the 2021 Toronto International Festival of Authors. Her bestselling classic was translated to English by Jocelyne Allen, and is now available in English. This event will be presented in Japanese and English, and supported by The Japan Foundation, Toronto.
---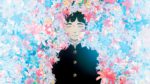 Colorful カラフル
Friday, November 5, 9:00 PM – Sunday November 7, 9:00 PM (EDT)
Directed by HARA Keiichi | 2010 | 126 minutes | Japanese with English Subtitles | Trailer
Cinephiles can also look forward to a special FREE film screening of the beautifully animated feature film is based on the novel, telling the tale of a dead soul who gets a second chance in the body of a 14 year-old.
Writings and Adaptations: Author Eto Mori interviewed by Author Kerri Sakamoto
Friday, November 5 to TBD
Pre-recorded event included as part of the feature anime Colorful online screening.
Acclaimed Canadian author Kerri Sakamoto interviews Eto Mori on her book Colorful and its adaptation into an animated film directed by Keiichi Hara.
---
Parallel Worlds: Translating Colorful
Interview with author Eto Mori & translator Jocelyne Allen, moderated by Dr. Mimi Okabe
Thursday, November 18, 8:00 PM – 9:00 PM (EDT)
Author Eto Mori, sits down with her translator Jocelyne Allen and moderator Dr. Mimi Okabe to talk about translating Colorful into English. Get the inside scoop on the process and insights of their successful collaboration on this classic work.
---
Previous Book Clubs
---
---