The JFT Library Book Club – The Little House

December 12th, 2019 @ 5:30 pm

-

6:30 pm

EST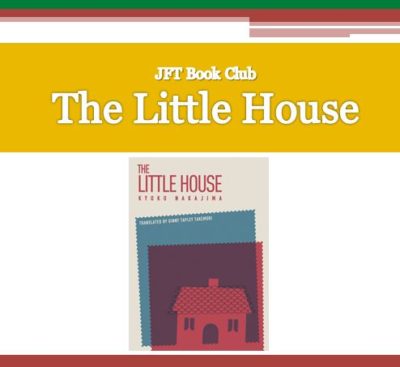 Join us for our last book club for this year, on Thursday December 12, 2019.
This month we will discuss "The Little House (小さいおうち)" written by Kyoko Nakajiima, one of the featured guest authors for Toronto International Festival of Authors, 2019. Let's enjoy sharing your thoughts and opinions about the book.
JFT Library's copy of the book is currently on display for TIFA.
Please feel free to visit the library and read onsite until it is available for circulation on October 31, 2019.
The Little House will be released in Canada on November 29, 2019.
Thursday, December 12, 2019 [5:30 pm – 6:30 pm]
Please call at 416-966-2935 or email the library at library@jftor.org to reserve your seat.
Please be aware that space may be limited.
Thank you for participating!
---
Do not miss the opportunity to attend Writers on Writing: Author Kyoko Nakajima in converation with Lynne Kutsukake on October 26 from 2:00-4:00 PM at the Japan, Foundation, Toronto.
---
There will be a special film screening of The Little House (in Japanese with English subtitles) between 7:00-10:00 PM on Sunday October 27 at Innis College, with Ms. Nakajima in attendance. For more information, click here.
---
Ms. Nakajima will also be part of the Festival Pop-Up at Union Station between 12:00 pm and 2:00 pm on Sunday October 27, as well as participating in a panel at Harbourfront Centre on Thursday October 30.
---
Previous Book Clubs
---
---