JFT Book Club Online – Manga: After the Rain by MAYUZUKI Jun

April 24 @ 5:30 pm

-

6:30 pm

EDT

Cost: Free
Thank you to all those who participated in the JFT Book Club Online – Manga: After the Rain by MAYUZUKI Jun!
For those who missed the book club but are interested in reading the manga deeply by yourself, click here to check out the guiding questions prepared by JFT Library staff for the meeting. Hope this helps enhance your reading experience! (In addition to discussing the questions, we also did some ice breaking activities, such as a mini Japanese quiz, a character popularity poll, etc. during this book club. )
*Ebooks and physical copies of After the Rain (Japanese version:『恋は雨上がりのように』) by MAYUZUKI Jun are available for circulation at JFT Library! See "WHERE YOU CAN FIND THE BOOK?" below for details or click here to download a PDF file about the creator details and the manga information.
Please continue to check the JFT's website and newsletters for future events information.
---
For the upcoming JFT Book Club Online, we will discuss MAYUZUKI Jun's manga (Japanese comic): After the Rain, Volume 1 (原書:『恋は雨上がりのように』1~2巻)!
Join us to chat about this sweet, coming-of-age romance manga with a moving story filled with rich character development! The artist MAYUZUKI Jun is one of the most notable young talents in the industry and will be one of the featured guests of The Toronto Comic Arts Festival (TCAF) 2023! Let's enjoy this heartfelt story together with other manga lovers in the lead-up to the artist's TCAF appearance!
*Please be aware that space may be limited. For those new to book club or if you just want to listen this time, we have newly created a small number of "Observer" slots!
*Depending on the number of the participants and how the discussion goes, we might extend the end time until 7 pm (EDT). However, if you have other commitments, feel free to leave at 6:30 pm.
If you have any questions or concerns, please don't hesitate to email us at library_jftoronto@jpf.go.jp. First-time participants are always welcome!
---
WHY JOIN JFT BOOK CLUB?
You can read a book by yourself, but when you read something thought-provoking or moving, it's natural to want to discuss it with someone else. This will be an exciting opportunity to connect with other book lovers from different cultural backgrounds, find new and interesting books, authors, or themes, and develop a richer understanding of Japan that you wouldn't gain from reading alone!
How the upcoming JFT Book Club online works?
1. Once you register for the event, you will receive guiding questions to help you think more deeply about the manga.
2. On the day of the event, we will meet via Zoom and will start with a quick icebreaker activity.
3. Depending on the number of the participants, we will break into a few small groups to discuss questions so that everyone has a chance to share their thoughts.
4. After each breakout session, each group will share what they have discussed with other groups.
*There is no right or wrong answer. Different perspectives make discussion more fun and vibrant!
---
WHERE YOU CAN FIND THE BOOK?
After the Rain (『恋は雨上がりのように』) by MAYUZUKI Jun is available for circulation at JFT Library! Search JFT Library's Online Catalogue or JF Digital Library (ebooks) to see if the item is available to borrow or to place a hold.
To get a new library card or to renew your existing card, please follow the instructions found here.
Borrow Ebook*Now Available* Email Library to place hold (physical copy)
*The Japanese version of After the Rain (『恋は雨上がりのように』), Volume 1 – 10 (physical copies) are currently available at JFT Library for onsite patrons (In-library use only until the end of April).
For more information about the book or where else you can get it, click here.
---
ABOUT THE BOOK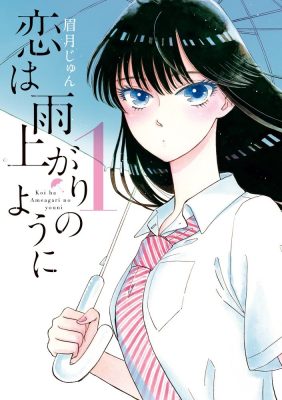 After the Rain (原書:『恋は雨上がりのように』)
Written and illustrated by MAYUZUKI Jun
Translated by Jocelyn Allen
Published by Vertical Comics, an imprint of Kodansha USA Publishing, LLC, 2018
Akira Tachibana is a reserved high school student who was the star of the track and field team but had to quit when she got injured. Sidelined and depressed, Akira stops in at a family restaurant one rainy day, and after the manager—a 45-year-old man with a young son—serves her free coffee, she is smitten, and soon takes a part-time job at the restaurant.
Despite the age gap, Akira is drawn to his kind nature, and little by little, the two begin to understand each other. One day, she decides to finally tell her manager how she feels… but how will he react?
In 2018, After the Rain won the 63rd Shogakukan Manga Award in the General category.
---
ABOUT THE AUTHOR
MAYUZUKI Jun made her debut in the world of manga by winning the 1st Golden Tiara Grand Prize sponsored by Shueisha. Since then, she has become widely celebrated as the creator of After the Rain, a coming-of-age romance that was adapted into an anime series and a live-action movie, and Sayonara Daisy, a collection of her short stories published throughout her career. Her latest series Kowloon Generic Romance, currently serialized in Weekly Young Jump Magazine, won third place in Takarajimasha's This Manga is Awesome! ranking in 2021 and was also a prize winner of the Manga Taisho Award that same year. Through her works, awards, and accolades, Jun Mayuzuki is recognized as one of the most notable young talents in the industry. Her unique art and storytelling have been recognized worldwide, which led her to be a featured artist on promotional posters for the Angoulême International Manga Festival in 2022.
ABOUT THE TRANSLATOR
Jocelyne Allen is a Japanese translator and interpreter and has translated hundreds of short stories, novels, and manga, including the Eisner Award-winning Frankenstein by Junji Ito and the critically acclaimed Our Dreams at Dusk by Yuhki Kamatani. As an interpreter, she has worked with Japan's most celebrated authors and artists, including Sayaka Murata, Nagata Kabi, Kyoko Nakajima, and Asano Inio. @brainvsbook
---
Related Programming:
Toronto Comic Arts Festival 2023 – Meet Manga Creator MAYUZUKI Jun @ JFT!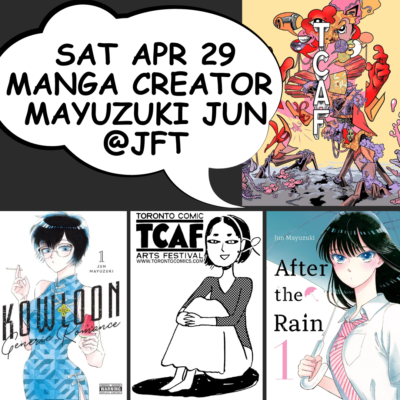 Part 1: A Conversation with Jun Mayuzuki – Creator of After the Rain and Kowloon Generic Romance
Saturday, April 29 11:00 AM @ JFT Event Hall
Learn about her amazing career, starting from her early beginnings, including After the Rain, to her latest series Kowloon Generic Romance.
Part 2: A Mangaka's Creative Process with Jun Mayuzuki
Saturday, April 29 2:30 PM @ JFT Event Hall
Don't miss this rare opportunity to dive deep into the creator's artistic process and life as a working mangaka!
*Part 2 attendees can get tickets for Autograph Session @4:00 PM-5:00PM
---
Previous Book Clubs
---
---