JFT Book Club Online – Temple Alley Summer by KASHIWABA Sachiko

September 15th, 2022 @ 5:30 pm

-

7:00 pm

EDT

Cost: Free
Thank you to all those who participated in The JFT Book Club Online – Temple Alley Summer by KASHIWABA Sachiko!
Please continue to check the JFT's website and newsletters for future events information.
---
For the upcoming JFT Book Club Online, we will discuss KASHIWABA Sachiko's Temple Alley Summer (帰命寺横丁の夏), which won the American Library Association's Batchelder Award this year. Ms. KASHIWABA will be one of the featured authors of the Toronto International Festival of Authors 2022. Join our virtual conversation about this sweet ghost story in the lead-up to Ms. KASHIWABA's TIFA appearance on September 24!
P.S. A special message from author KASHIWABA Sachiko will be shared exclusively with JFT Book Club participants!
RSVP: library@jftor.org
*Please be aware that space may be limited.
*Prior to the meeting, an email will be sent to you with a website link and log-in password to enter the online Zoom meeting.
If you have any questions or concerns, please don't hesitate to email us. New members are always welcome!
WHY JOIN JFT BOOK CLUB?
You can read a book by yourself, but when you read something thought-provoking or moving, it's natural to want to discuss it with someone else. This will be an exciting opportunity to connect with other book lovers from different cultural backgrounds, find new and interesting books, authors, or themes, and develop a richer understanding of Japan that you wouldn't gain from reading alone.
---
WHERE YOU CAN FIND THE BOOK?
Temple Alley Summer (帰命寺横丁の夏) by KASHIWABA Sachiko is available for circulation at JFT Library. Search JFT Library's Online Catalogue or JF OverDrive (ebooks) to see if the item is available to borrow or to place a hold.
To get a new library card or to renew your existing card, please follow the instructions found here.
For more information about the book, click here.
---
ABOUT THE BOOK
Temple Alley Summer (帰命寺横丁の夏)
Written by KASHIWABA Sachiko
Illustration by SATAKE Miho
Translated by Avery Fischer Udagawa
Yonder: Restless Books for Young Readers, 2021
Kazu knows something odd is going on when he sees a girl in a white kimono sneak out of his house in the middle of the night—was he dreaming? Did he see a ghost? Things get even stranger when he shows up to school the next day to see the very same figure sitting in his classroom. No one else thinks it's weird, and, even though Kazu doesn't remember ever seeing her before, they all seem convinced that the ghost-girl Akari has been their friend for years!
When Kazu's summer project to learn about Kimyo Temple draws the meddling attention of his mysterious neighbor Ms. Minakami and his secretive new classmate Akari, Kazu soon learns that not everything is as it seems in his hometown. Kazu discovers that Kimyo Temple is linked to a long forgotten legend about bringing the dead to life, which could explain Akari's sudden appearance—is she a zombie or a ghost? Kazu and Akari join forces to find and protect the source of the temple's power. An unfinished story in a magazine from Akari's youth might just hold the key to keeping Akari in the world of the living, and it's up to them to find the story's ending and solve the mystery as the adults around them conspire to stop them from finding the truth.
---
ABOUT THE AUTHOR
KASHIWABA Sachiko is a prolific writer of children's and young adult fantasy whose career spans more than four decades. Her works have garnered the prestigious Sankei, Shogakukan, and Noma children's literature awards, and her novel The Marvelous Village Veiled in Mist influenced Hayao Miyazaki's film Spirited Away. Her books for children include the Monster Hotel series, Great-Aunt's Amazing Recipes, Miracle Family, The What's-Next Library, Temple Alley Summer, The Witch Who Loved the King, and Strange Journey from the Basement, lately animated as The Wonderland. She has co-translated two fairy novels by Gail Carson Levine into Japanese, and she edited a children's version of the Tōno monogatari, beloved folk legends collected by Kizen Sasaki and Kunio Yanagita. She lives in Iwate Prefecture.
Download PDF of the author details and TIFA related event info here
ABOUT THE TRANSLATOR
Avery Fischer Udagawa's translations of children's literature from Japanese include the 2022 Mildred L. Batchelder Award-winning novel Temple Alley Summer by Sachiko Kashiwaba, illustrated by Miho Satake, and the historical novel J-Boys: Kazuo's World, Tokyo, 1965 by Shogo Oketani. Her short story translations have appeared in Kyoto Journal, Words Without Borders, Tomo: Friendship Through Fiction—An Anthology of Japan Teen Stories, The Best Asian Short Stories 2018, and A Tapestry of Colours 1: Stories from Asia. Born in Kansas, she lives near Bangkok.
---
Related Programming: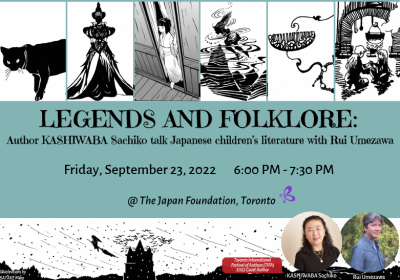 Legends and Folklore: Author KASHIWABA Sachiko talk Japanese children's literature with Rui Umezawa
Friday, September 23, 6:00 PM – 7:30 PM (ET) @ JFT Event Hall
Celebrated novelist of children's and young adult fiction KASHIWABA Sachiko is coming to Toronto! On September 23, you're invited to an exclusive talk with Ms. Kashiwaba and Canadian author Rui Umezawa. The two will sit down to discuss Japanese folklore, community stories, traditional tales vs. modern fantasies, and much more! Admission for this event is free, but registration is required.
---
The House of the Lost on the Cape – Film Screening
Saturday, September 24, 7:00 PM (EDT) | Details and tickets >
17-year-old run-away Yui and 8-year-old Hiyori, who lost her family and her voice, have no place to go when they run into Kiwa, a strange old lady. She offers them a place to stay, in a slightly banged-up old house overlooking the sea, a Mayoiga. Despite joining Kiwa on a whim, the two girls find comfort in Mayoiga, a legendary house, said to look after lost travelers, and the warm hospitality of Kiwa. Both girls' damaged hearts begin to heal little by little. Until one day, a variety of strange beings which Kiwa calls "Fushigitto" begin popping up around the house.
Author KASHIWABA Sachiko will be in-attendance for a Q&A after the screening.
Co-presented with the Cheng Yu Tung East Asian Library
Previous Book Clubs
---
---