JFT Book Club Online – Manga June 2022

June 15th, 2022 @ 4:30 pm

-

6:00 pm

EDT

Cost: Free
Thank you to all those who participated in The JFT Book Club Online – Manga!
Please continue to check the JFT's website for future book club information.
Check out the list of books that were discussed during the book club below or download the full list here.
*Search the Library's Online Catalogue or JF OverDrive (electronic books) to see if the item is available to borrow or place hold.
| Title | Author | Genre |
| --- | --- | --- |
| A Silent Voice | Oima, Yoshitoki | Shonen, Romance, School Life |
| Ayako | Tezuka, Osamu | Seinen, Mystery, Suspense |
| Blue Period | Yamaguchi, Tsubasa | Seinen, Art, School Life |
| Cells at Work! | Shimizu, Akane | Shonen, Science, Adventure |
| Fire Force | Ohkubo, Atsushi | Shonen, Dark Fantasy, SF |
| Karneval | Mikanagi, Touya | Josei, Action, SF |
| Ode to Kirihito | Tezuka, Osamu | Seinen, Horror, Medical |
| Sensei's Pious Lie | Torikai, Akane | Seinen, Romance, Mature Drama |
| 7 Billion Needles | Tadano, Nobuaki | Seinen, Horror, SF |
| Tokyo Revengers | Wakui, Ken | Shonen, Action, SF |
---

Share your favourite manga (Japanese comics) and discover new genres and narratives you've never encountered before!
Join our next JFT Book Club Online and share your thoughts and passion for a manga title of your choice with other manga lovers.
RSVP: library@jftor.org
*Please be aware that space may be limited.
*Prior to the meeting, an email will be sent to you with a website link and log-in password to enter the online Zoom meeting.
If you have any questions or concerns, please don't hesitate to email us. New members are always welcome!
WHY JOIN JFT BOOK CLUB?
You can read a book by yourself, but when you read something thought-provoking or moving, it's natural to want to discuss it with someone else. This will be an exciting opportunity to connect with other book lovers from different cultural backgrounds, find new and interesting books, authors, or themes, and develop a richer understanding of Japan that you wouldn't gain from reading alone.
WHAT BOOK TO BRING?
Manga titles may be from any genre (shojo, shonen, comedy, science fiction, period drama, psychological thrillers, horror, romance, etc.) in the JFT Library collection. You can search whether the book is part of the JFT's collection on our online catalogue or JF OverDrive (electronic books).
*Manga must be translated from original Japanese to English or French*
---
LEARN MORE ABOUT JAPANESE MANGA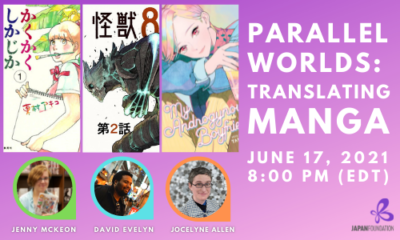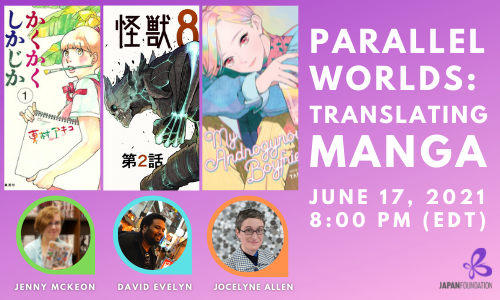 Find out how manga are translated across genres in the first of the Parallel Worlds series of discussions, Parallel Worlds: Translating Manga, where translator Jocelyne Allen sits down with colleagues David Evelyn and Jenny McKeon to discuss the challenges and thrills of connecting two different cultures. You can now watch the recording on our YouTube channel.
For more recordings of past JFT lectures, interviews, presentations, and expert discussions, check out our Japan Dialogues collection.
---
Previous Book Clubs
---
---