Parallel Worlds: Translating Manga

June 17th, 2021 @ 8:00 pm

-

9:00 pm

EDT

Cost: Free

Parallel Worlds: Translators Behind the Scenes
On the other side of every book in translation is a translator connecting the two different cultures, bringing not only the words of that parallel world into English, but also its thoughts, values, and viewpoints. In this series of discussions, we talk to translators of literary fiction, manga, genre fiction, and children's literature to tease out the challenges and thrills of bringing a wide variety of Japanese works to English readers.
---
Parallel Worlds: Translating Manga from Japan
Please click here to watch the recording of the discussion.
Date: Thursday, June 17, 2021
Time: 8:00 PM (EDT)
Panelists: David Evelyn and Jenny McKeon
Moderator: Jocelyne Allen
Venue: Online
Jocelyne Allen (My Lesbian Experience with Loneliness, Remina) sits down with colleagues David Evelyn (Undead Unluck, Kaiju No. 8) and Jenny McKeon (Blank Canvas, Bloom Into You) to discuss the translation of manga across genres. How is translating a shonen title different from working on a yuri book? What is simulpub? Who decides what manga is released in English? These intrepid translators tackle a variety of thorny questions to explain exactly how your favourite series ends up on the shelves of your local bookstores.
We love to hear your feedback!! Feedback
---
About David Evelyn
David Evelyn is a Jersey-born Japanese-English translator specializing in all forms of J-E media including anime, manga, games, visual novels, and light novels. Manga to his credit include Yoshifumi Tozuka's Undead Unluck, Naoya Matsumoto's Kaiju No. 8, and Kazusa Inaoka's i tell c, currently running under the Shonen Jump imprint. @Shinhoroko
---
About Jenny McKeon
Jenny McKeon is a professional Japanese to English translator of manga and light novels. Based in Massachusetts, she translates series such as Nichijou, Blank Canvas, Bloom Into You, Satoko and Nada, The Yakuza's Guide to Babysitting, and So I'm a Spider, So What?
Jenny primarily works on manga and light novels for Seven Seas, Vertical, Kaiten Books and Yen Press. She has a BA in Japanese and linguistics from UMass Amherst.
When not translating or reading, she is also a writer and artist herself. @JLMKart
---
About Jocelyne Allen
Jocelyne Allen is a Japanese translator and interpreter and has translated hundreds of short stories, novels, and manga, including the Eisner Award-winning Frankenstein by Junji Ito and the critically acclaimed Our Dreams at Dusk by Yuhki Kamatani. As an interpreter, she has worked with Japan's most celebrated authors and artists, including Sayaka Murata, Nagata Kabi, Kyoko Nakajima, and Asano Inio. Her translation of the classic novel Colorful by Eto Mori is set for release in July 2021. @brainvsbooks
---
Parallel Worlds: Translating Manga Workshop > June 24, 2:00 PM (EDT) Space is limited, register soon!
Join a special manga translating workshop with Jocelyne Allen for an in-depth dive into the nuts and bolts of translating manga. Details >
---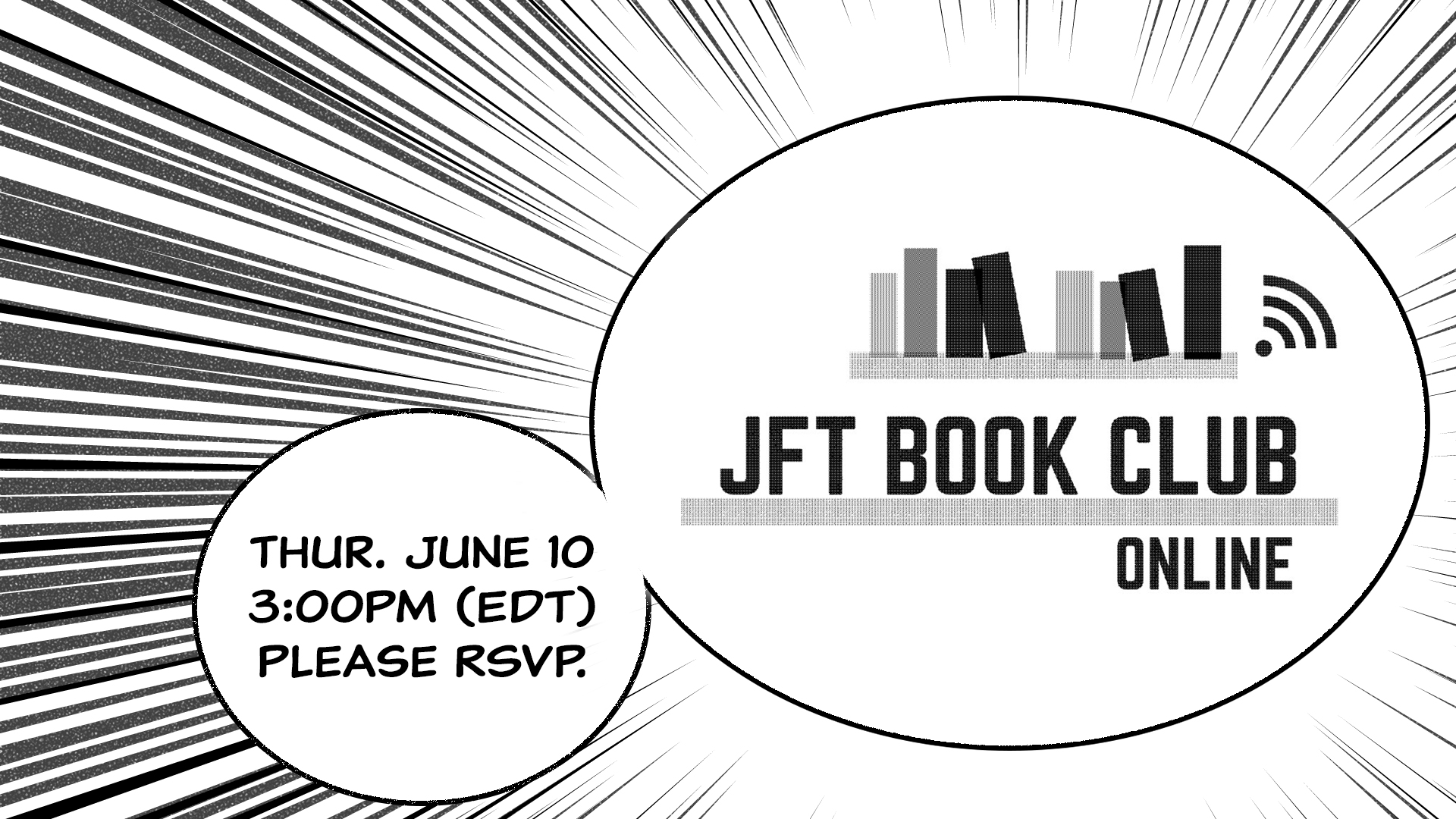 JFT Book Club Online > MANGA!
Manga was the theme for the JFT Book Club Online! that took place on June 10. Check out the list of manga that were discussed and recommended by participants. (full list below). You can also check out the library's digital collection of manga on JFT OverDrive or our Manga booklist for ideas.
The JFT Library Book Club Online: Manga Booklist
---
---
Registration
---