Parallel Worlds: Translating Manga Workshop

June 24th, 2021 @ 2:00 pm

-

4:00 pm

EDT

Cost: Free

Parallel Worlds: Translators Behind the Scenes
On the other side of every book in translation is a translator connecting the two different cultures, bringing not only the words of that parallel world into English, but also its thoughts, values, and viewpoints. In this series of discussions, we talk to translators of literary fiction, manga, genre fiction, and children's literature to tease out the challenges and thrills of bringing a wide variety of Japanese works to English readers.
---
Parallel Worlds: Translating Manga Workshop
Date: Thursday, June 24, 2021     SPACE IS LIMITED! REGISTER SOON! Once registration is full, please put your name on wait list
Time: 2:00 PM – 4:00 PM
Presenter and Facilitator: Jocelyne Allen
Venue: Online
Join us on an in-depth dive into the nuts and bolts of translating manga. Participants will walk through the making of a manga script from start to finish and then have the opportunity to put what they've learned into practice by breaking into groups and translating a story themselves. Broader issues such as context and audience will be considered, as well as concrete challenges like sound effects, formatting, and linguistic pitfalls.
Language: Workshop conducted in English
Participants: Aspiring manga translators and other professionals
Requirements: Must be able to read and understand Japanese
Platform: Zoom online with use of break out rooms
Materials: Downloadable link of manga text will be sent before the workshop
Participants of the Translating Manga Workshop will learn about;
o Flow and process of making manga script
o Balancing perspectives of the audience and author
o Sound effects and formatting
o Linguistic pitfall and other tricky things
---
About Jocelyne Allen
Jocelyne Allen is a Japanese translator and interpreter and has translated hundreds of short stories, novels, and manga, including the Eisner Award-winning Frankenstein by Junji Ito and the critically acclaimed Our Dreams at Dusk by Yuhki Kamatani. As an interpreter, she has worked with Japan's most celebrated authors and artists, including Sayaka Murata, Nagata Kabi, Kyoko Nakajima, and Asano Inio. Her translation of the classic novel Colorful by Eto Mori is set for release in July 2021.
Illustration courtesy of Natsume Ono.
Click here for current list of her translated works.
---
Parallel Worlds: Translating Manga > June 17, 8:00 PM (EDT)
Our livestream has ended. Please check back to see the recording of a great discussion between David Evelyn, Jenny McKeon and Jocelyne Allen who examine translating manga across genres. Details >
---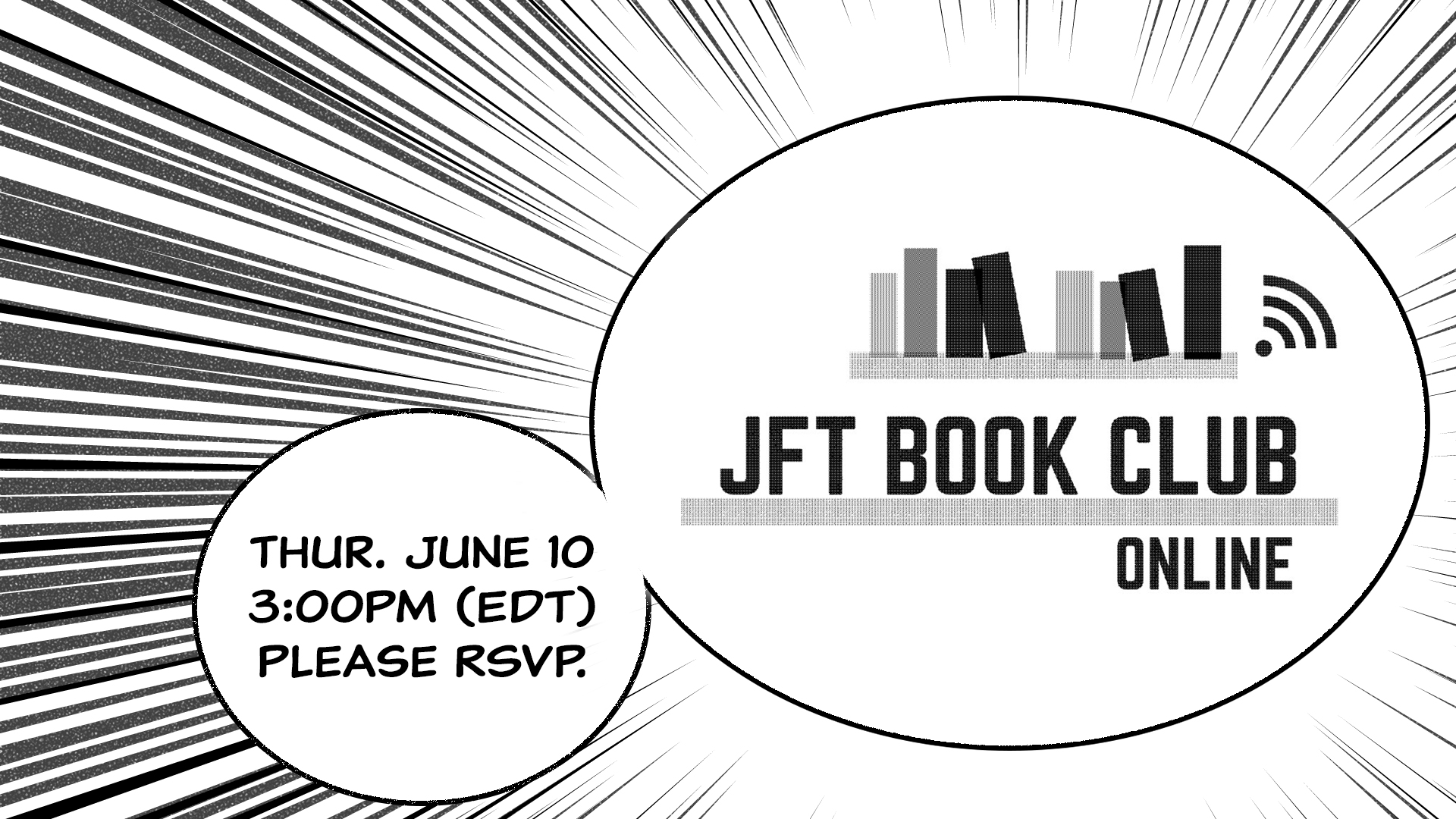 JFT Book Club Online > MANGA! 
Manga was the theme for the JFT Book Club Online! that took place on June 10. Check out the list of manga that were discussed and recommended by participants. (full list below). You can also check out the library's digital collection of manga on JFT OverDrive or our Manga booklist for ideas.
The JFT Library Book Club Online: Manga Booklist
---
---
Registration
---