The Logic and Context of Conformity: Japan's Entry into International Society

September 11th, 2015 @ 1:15 pm

-

2:45 pm

EDT

Cost: Free
A lecture by Prof. Tomoko Okagaki, Dokkyo University
Presented by The Asian Institute at the Munk School of Global Affairs, University of Toronto; Japan Studies Association of Canada; Japan Futures Initiative, The Japan Foundation 
please note new venue: Jackman Humanities Institute, Main Floor Conference Room, 170 St. George Street
Japan's 19th century entry into international society was dramatic and fraught with danger. In the four decades after being challenged to drastically alter its position in international society in 1853, Japan reinvented itself as a modern sovereign state, shedding its long-standing isolation and political practices. Faced with the crucial task of responding to existing Western norms of international society, Japan's leaders chose to conform.
In contrast with the majority of historically-focused inquiries, Professor Okagaki introduces a political science perspective into the central questions of Japan's internationalization. Why did Japan join the Western state system without voicing as much resistance as other Asian countries? How, in turn, did Japan's entry affect international society? How did Japan balance international and domestic constraints and resources? What implications does the Japanese experience hold for other countries today in their encounters with prevailing international norms?
Tomoko Okag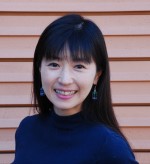 aki is Professor of Political Science at Dokkyo University in Saitama, Japan. She holds a doctorate in Political Science from the University of Michigan. She was a visiting student at the University of Toronto and University of British Columbia, and a visiting scholar at both Harvard University and Université Paris 1 Panthéon-Sorbonne
Professor Okagaki's research interests include, state socialization, Asian regionalism, and international political relations. She is the author of numerous publications including The Logic of Conformity: Japan's Entry into International Society (2013), and co-translator of Kenneth Waltz's Theory of International Politics (2011).
Ochiai Yoshiiku. Picture of a Drinking Party among People of Five Countries at the Gankirô Tea House (Gokakoku Gankirô ni okeru sakamori no zu), 1860. IColor woodblock print, ôban triptych, 15 in. x 10 in. each. Prints and Photographs Division, Library of Congress (84). (LC-USZC4-8479, 8480, 8481)
---
---