We Are Little Zombies (virtual film screening)

May 19 @ 5:59 pm

-

May 21 @ 11:59 pm

EDT

Cost: Free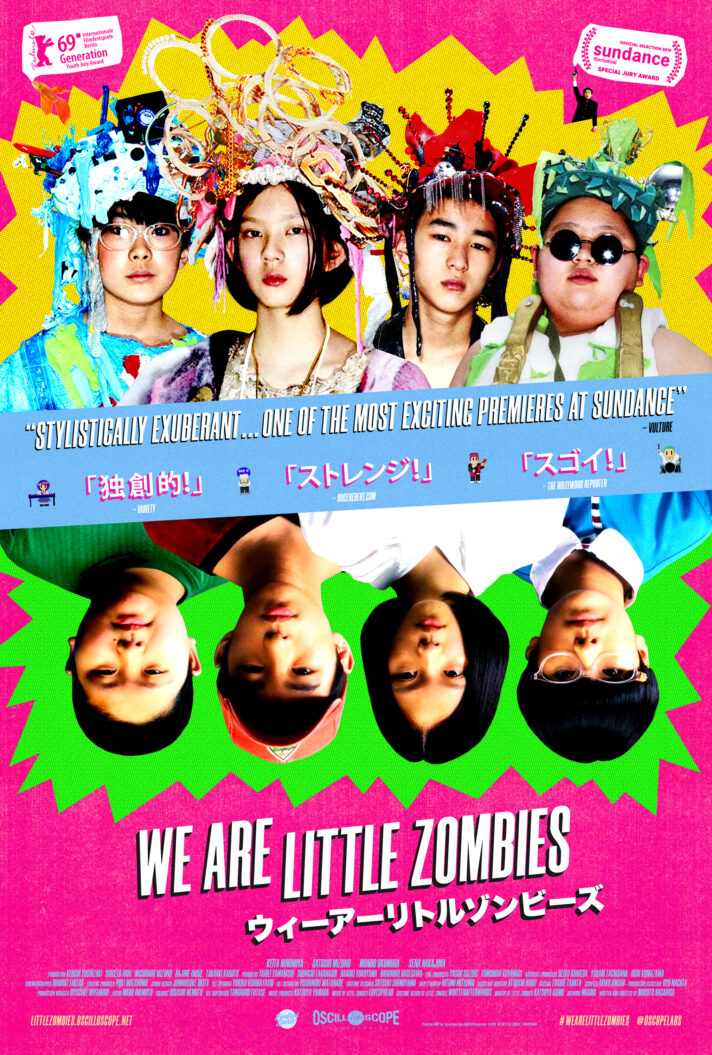 We Are Little Zombies ウィーアーリトルゾンビーズ
Friday, May 19, 5:59PM (ET) to Sunday, May 21, 11:59 PM (ET)
Directed by NAGAHISA Makoto • 2019 • Music / Drama • 120 min. • Presented in Japanese with English subtitles • Virtual/Online Film Screening • Admission Free • Trailer • RSVP Required (register below)
When four young orphans—Hikari, Ikuko, Ishi, and Takemura—first meet, their parents' bodies are being turned into dust, like fine Parmesan atop a plate of spaghetti Bolognese, and yet none of them can shed a tear. They are like zombies; devoid of all emotion. With no family, no future, no dreams, and no way to move forward, the young teens decide that the first level of this new existence involves salvaging a gaming console, an old electric bass, and a charred wok from their former homes—just enough to start a band-and then conquer the world. Tragedy, comedy, music, social criticism, and teenage angst are all subsumed in this eccentric cinematic tsunami.
We Are Little Zombies held its World Premiere at the 2019 Sundance Film Festival and took home the World Cinema Dramatic Special Jury Award for Originality.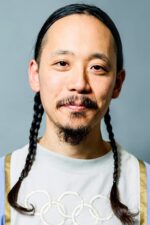 Director Biography:
Born August 2, 1984 in Tokyo, Nagahisa directed films and music videos while working at a major ad agency as a commercial planner. In 2017, he wrote and directed the short film And So We Put Goldfish In The Pool, and was the first Japanese filmmaker to win the Short Film Grand Jury Prize at the 33rd Sundance Film Festival. His award-winning short film garnered attention both in Japan and around the world for its compelling cinematography, clever storytelling, and entrancing music, promising the birth of a new talent in the wake of veterans such as IWAI Shunji (A Bride for Rip Van Winkle) and NAKA SHIMA Tetsuya (The World of Kanako). In 2019, director Nagahisa has made his long-awaited full-length debut with We Are Little Zombies.
Director Statement:
I staked everything in my life on We Are Little Zombies. The film is like a music festival featuring all my favorite actors, musicians, and artists. It may be a bit hectic, but I hope it can touch the heart of at least one troubled person who might be crouching in a dark room, alone, looking for help. I, myself, cried several times at the preview screening. I can't wait for everyone to see it.




Related Programming:

Live From Tokyo is the first screening in our LIVE HOUSE FILMS series. This May and June, JFT is stoked to present film screenings in celebration of J-rock and the Japanese indie music scene!
Live From Tokyo
Warp back to Japan in the late 2000s through the back streets in Shinjuku, the intersections in Shibuya, the alleys in Koenji, and explore the innovative artists that populate the multi-faceted underground music scene of Tokyo.
On-Gaku: Our Sound 音楽
When you're a bored teenager looking for thrills, sometimes the only thing you can turn to is rock 'n roll. Having no skill, money, or even a full set of drums, a feared trio of high school delinquents nevertheless decide they are destined for musical glory in a quest to impress their only friend Aya, avoid a rival gang, and – most importantly – jam out.
June 3 at Cineplex Scarborough
Further Explore the World of J-Rock & Japanese Indie Music with JFT Library Items!
Deepen your appreciation of J-rock and Japanese indie music with JFT Library's items curated for the Live House Films series! With our selection of fiction and nonfiction books/manga and audiovisual materials, you will gain a deeper understanding of the history and culture behind this exciting genre. Whether you are a die-hard fan or new to the scene, we hope the library items will enrich your Live House Film Series experience! Apply for a new library card or renew your expired card here.
*Missed the virtual film screening of Live from Tokyo on May 5 – 7? Borrow JFT Library's DVD of this inspiring documentary about the ever-evolving and multifaceted indie and underground music culture in Tokyo!


---
---
Registration
---