The Japan Foundation, Toronto hosted a Nihongo Salon with the aim of providing a place where advanced learners and Japanese language teachers in Canada who would like to maintain Japanese language proficiency can speak Japanese regularly.
These gatherings were organized for Japanese language teachers in Canada who mainly participated in previous language brush up workshops, with the hope that they could be an opportunity for teachers and advanced learners to regularly speak Japanese and to network with other Japanese teachers in Canada.
In 2023, we are changing the format and will post new information soon so stay tuned.
Upcoming Events
*There are currently no new events scheduled. Check back later for more updates!
---
Works By Our Nihongo Salon Participants
Nihongo Art by our 15th Nihongo Salon Participants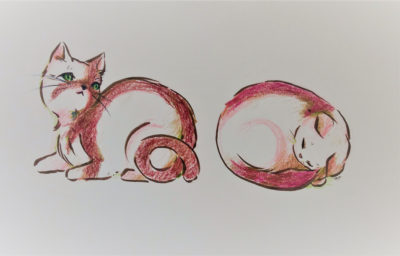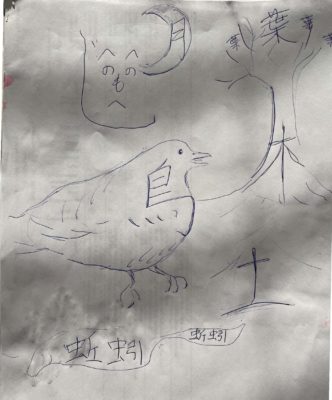 ---
Past Events
JFT Online Nihongo Salon for Japanese Teachers (27) (February 8, 2023)
Topic: Let's play Spyfall in Japanese!
»read more
JFT Online Nihongo Salon for Japanese Teachers (26) (January 11, 2023)
Topic: Let's play ito!
»read more
JFT Online Nihongo Salon for Japanese Teachers (25) (November 9, 2022)
Topic: Let's play Among Us in Japanese!
»read more
JFT Online Nihongo Salon for Japanese Teachers (24) (October 12, 2022)
Topic: Let's play One Night Werewolf in Japanese!
»read more
JFT Online Nihongo Salon for Japanese Teachers (23) (September 14, 2022)
Topic: Let's play Katakana-shi!
»read more
JFT Online Nihongo Salon for Japanese Teachers (22) (August 10, 2022)
Topic: Let's play with Japanese crossword puzzles!
»read more
JFT Online Nihongo Salon for Japanese Teachers (21) (June 8, 2022)
Topic: Let's play Mafia in Japanese!
»read more
JFT Online Nihongo Salon for Japanese Teachers (20) (May 11, 2022)
Topic: Let's play Wordle in Japanese!
»read more
JFT Online Nihongo Salon for Japanese Teachers (19) (April 13, 2022)
Topic: Let's read "Poupelle of Chimney Town"
»read more
JFT Online Nihongo Salon for Japanese Teachers (18) (March 9, 2022)
Topic: Let's try "ito"
»read more
JFT Online Nihongo Salon for Japanese Teachers (17) (February 9, 2022)
Topic: Let's try "Word Wolf"
»read more
JFT Online Nihongo Salon for Japanese Teachers (16) (January 12, 2022)
Topic: Let's try "Hyakunin Isshu 百人一首"
»read more
JFT Online Nihongo Salon for Japanese Teachers (15) (December 8, 2021)
Topic: Let's make "Nihongo Art"
»read more
JFT Online Nihongo Salon for Japanese Teachers (14) (November 10, 2021)
Topic: Let's make a voice sample!
»read more
JFT Online Nihongo Salon for Japanese Teachers (13) (October 13, 2021)
Topic: Let's try "Dream On!"
»read more
JFT Online Nihongo Salon for Japanese Teachers (12) (September 8, 2021)
Topic: Let's discuss "Jugoya 十五夜"
»read more
JFT Online Nihongo Salon for Japanese Teachers (11) (August 11, 2021)
Topic: Let's discuss "Dancing Sanma Palace!"
»read more
JFT Online Nihongo Salon for Japanese Teachers (10) (July 14, 2021)
Topic: Let's discuss the Tokyo Olympics!
»read more
JFT Online Nihongo Salon for Japanese Teachers (9) (June 9, 2021)
Topic: Using Marugoto B1 Topic 7 "Take on the challenge of martial arts!"
»read more
JFT Online Nihongo Salon for Japanese Teachers (8) (May 12, 2021)
Topic: Let's try "Nasa game"
»read more
JFT Online Nihongo Salon for Japanese Teachers (7) (April 14, 2021)
Topic: Using Marugoto B1 Topic 6 "Let's read manga"
»read more
JFT Online Nihongo Salon for Japanese Teachers (6) (March 10, 2021)
Topic: Let's try Origata
»read more
JFT Online Nihongo Salon for Japanese Teachers (5) (February 10, 2021)
Topic: Discuss in Japanese! Canadian "common sense" that Japanese found surprising
»read more
JFT Online Nihongo Salon for Japanese Teachers (4) (January 13, 2021)
Topic: Let's make haiku!
»read more
JFT Online Nihongo Salon for Japanese Teachers (3) (December 8, 2020)
Topic: Discuss in Japanese! Japanese "common sense" that you found surprising
»read more
JFT Online Nihongo Salon for Japanese Teachers (2) (November 4, 2020)
Topic: Having fun with language using Yoru ni Kakeru
»read more
JFT Online Nihongo Salon for Japanese Teachers (1) (October 14, 2020)
Topic: Ice Breaker & Mini-Japanese lesson
»read more