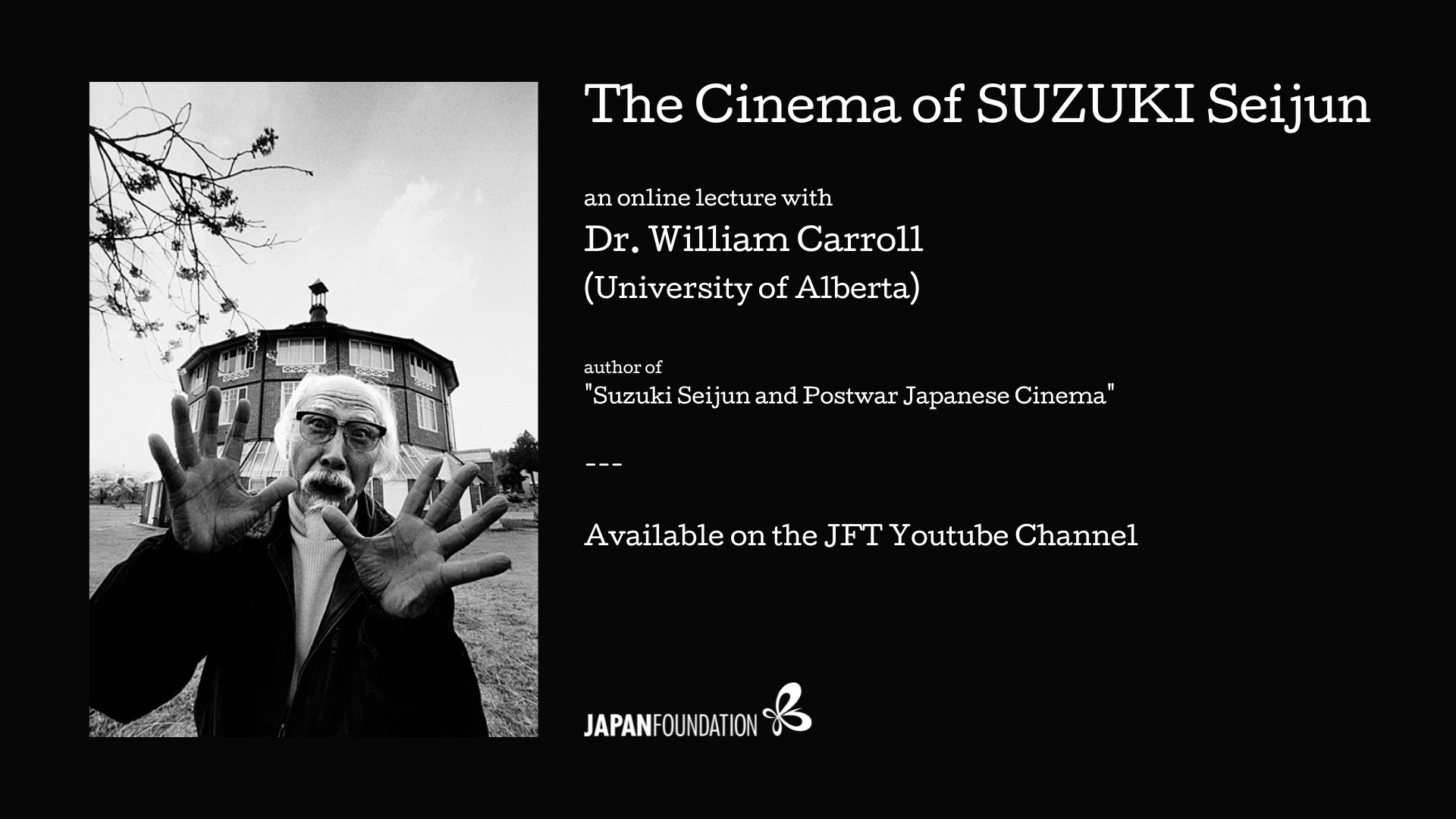 Join Dr. William Carroll for a primer on the cinema of legendary genre-bending filmmaker SUZUKI Seijun. Dr. Carroll will provide an introduction to Suzuki's body of work and touch on key arguments from his recently published book, Suzuki Seijun and Postwar Japanese Cinema. The video lecture will be followed by a pre-recorded Q&A session.
This event is part of the Suzuki Seijun Retrospective Tour, which is currently making its way across major Canadian cities including Toronto, Montreal, Winnipeg, and Vancouver.
---
Speaker Biography:
Dr. William Carroll is an experienced scholar and academic of modern and contemporary Japanese culture, particularly of Japanese cinema, media culture and industry. Dr. Carroll has a joint PhD in Cinema and Media Studies and East Asian Languages and Civilizations from the University of Chicago and is a Postdoctoral Associate in the Department of Asian & Middle Eastern Studies at Duke University. He is also currently an Assistant Professor of Modern and Contemporary Japanese Cultural Studies at the University of Alberta.
---
Related Programming:
SUZUKI Seijun Retrospective Tour (until September 2023)
The Japan Foundation, Toronto is proud to celebrate the centennial of legendary Japanese filmmaker, SUZUKI Seijun 鈴木 清順, with a Canada-wide retrospective tour of his prolific body of work. Starting from April through to September, cinematheques from across the country will be participating in the retrospective with rare screenings of Suzuki's films from his five-decade-long career, all in glorious 35mm print! Tour stops include Edmonton, Toronto, Montreal, Winnipeg, and Vancouver.
Pop Japan: Suzuki Seijun (May 10-27)
TIFF is honouring the centenary of master director SUZUKI Seijun with a showcase of six of his films all in 35mm prints. POP Japan: Suzuki Seijun is a celebration of the iconoclastic filmmaker whose pop-art approach innovated genres from pulp crime to the period ghost story, and influenced notable directors such as Quentin Tarantino, Jim Jarmusch, and Park Chan-wook. In conjunction with the Suzuki Seijun Retrospective Tour.