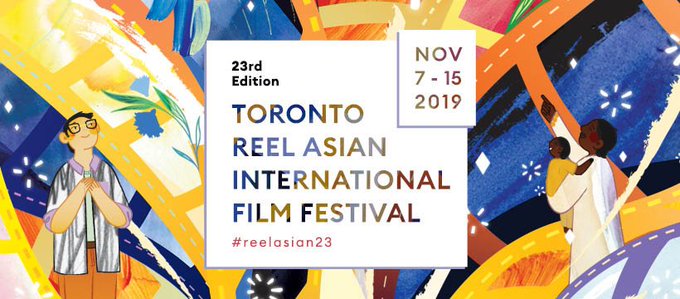 Toronto Reel Asian International Film Festival
November 7 ~ 15, 2019
@various venues in Toronto Tickets, details and schedule
The 23rd annual festival brings the best in Pan-Asian Cinema to Toronto audiences. This year there are a number of excellent short films and features by Japanese filmmakers.
---
Lexical Gap [Turning Point Shorts Program]
November 9, 1:15 PM @TIFF Bell Lightbox 3
Directed by Yoko Okumura
Bento [Nine Courses Shorts Program]
November 13, 10:30 AM @Bashir Yerex 401 Richmond
Directed by Kazuma Yano
November 13, 1:30 PM @Bashir Yerex 401 Richmond
Directed by Mai Nakanishi
Homesick [Linger Shorts Program]
November 13, 1:30 PM @Bashir Yerex 401 Richmond
Directed by Koya Kamura
---
November 10, 8:15 PM @TIFF BLB
Directed by Makoto Nagahisa (2019) 120 min.
Standing outside a crematorium on a sunny day, four young strangers—Hikari, Ikuko, Ishi, and Takemura—meet by chance. They have each lost their parents under absurd circumstances, ranging from a car accident to murder, and they are drawn together by their shared inability to shed a tear over their loss. Like zombies, the quartet are devoid of all emotions and they possess no motivation or goals in life. So, what are they to do? Of course, form a kick-ass rock band! This is the story of how four "zombies" became viral sensations and swept the world by storm on their quest to recover what they have lost—their emotions—and perhaps gain something greater than that in the end.
Makoto Nagahisa's directorial debut is a fascinating and inventive look at grief and loss that never sacrifices its emotional rawness. The film keeps audiences entertained through its creative use of video game wackiness, vivid imagery and an unforgettable soundtrack. Featuring cameos from some of the best names in Japanese cinema, including Rinko Kikuchi and Sosuke Ikematsu, We Are Little Zombies reminds us that in order to find ourselves again, often it just takes something as simple as a great rock song.
---
November 14, 7:00 PM @JCCC
Directed by Toshiyuki Toyoda (2018) 127 min.
Toshiaki Toyoda's star-studded biopic tells the true story of shogi (Japanese chess) player, Shoji "Shottan" Segawa. Despite consistent dedication, Shottan (Ryuhei Matsuda) fails to go professional by the time he turns 26, permanently forfeiting his chance according to the game's strict rules. Shottan does not abandon his dream and continues as a top amateur until, at 35, he makes an unprecedented bid to go professional.
Informed by Toyoda's personal shogi experience (he trained to go professional as an adolescent), this tale of late-blooming self-realization is an inspirational study of perseverance against all odds. Both a sensitive character study a fascinating glimpse into the closed world of shogi, director Toyoda's (Blue Spring, I'm Flash) film builds to a rousing conclusion.