Director's Message Archives: From Winter 2014 – April 2017
April 12, 2017
The spring has been quite busy at JFT with the conclusion of the Legendary Loyalty exhibition and the immensely popular Japanese for Laughs: Japanese Rakugo Demonstration and performance by Yanagiya Sankyo.
Earlier in March we opened the exhibition Road of Light and Hope: National Treasures of Todai-ji Temple, Nara that features the beautiful photography of Miro Ito who will be coming to our centre for an artist talk on May 26.
Complementing the exhibition, we are screening documentary films, the Tenpyo Art Screening Series that examine a number of related subjects such as the ancient music of Gagaku and the seasonal fire festivals in Nara.
This spring, we continue to be busy with our Japanese language programs, including the 2nd and 3rd term of our Japanese Together course, as well as the meetings and seminars we organize for the Japanese language teachers. Our Japanese in Anime class will again pop-up at the Anime North convention at the end of May.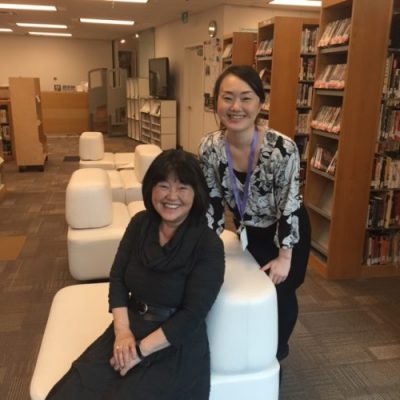 Also in May, we will also be part of the 2017 Toronto Comic Arts Festival and hosting in our event hall a special display that explores Gothic Lolita fashion and culture.
Our long time staff, Mariko Liliefeldt, Chief Librarian, celebrated her retirement at the end of March after being at the helm of the library for 22 years, since the early beginnings of our presence in Canada. We will miss her smile but she promises to visit us soon! The Library is now in the capable hands of our new Library Manager Ayumi Takai.
On a similar note, I have an announcement to make as well – I will be returning to Tokyo in order to assume a post at the Japan Foundation at the end of April, after an exciting and fulfilling 18 months here in Toronto.
During my tenure, I have been fortunate enough to have worked alongside and met many inspiring individuals and wonderful institutions.  Together, we were able to implement projects that enhance and deepen understanding between Japan and Canada.
Canada is truly a country of global citizens and through my experiences here, I have come to gain more insight into the importance of intercultural exchange and the true meaning of strength in diversity. I will cherish this Canadian characteristic as it is becoming increasingly necessary to navigate the global challenges of today and tomorrow.
I wish to convey my sincere appreciation and gratitude to my staff, collaborators, contributors and visitors to our centre who share a passion in the many programs and activities of the Japan Foundation, Toronto.
I hope our paths will cross again in the near future.
With warm regards and thanks,
Emi Iwanaga
Executive Director
The Japan Foundation, Toronto
---
December 15, 2016
November 18 marked the first anniversary of my arrival in Toronto. Despite some challenges, like the minor flood that put us in a temporary office for a few weeks last winter, it has been a busy, productive and rewarding year. Working flexibly around a theme of "Design," we showcased a gamut of cultural artifacts introducing Japanese arts and culture: contemporary poster art, traditional ceramics, book design and ukiyo-e. Hundreds of guests came to watch documentary screenings on cuisine, horticulture and art in our event hall and seminar room. Still more joined us for lectures, panel discussions, library service, teachers' workshops and Japanese language classes. As we get to know our new space and audience, we hope to continue serving you with more stimulating and surprising programming.
The Japanese Language Proficiency Test (JLPT) was held on the first Sunday of December. We dispatched our staff to test locations in Toronto, Edmonton and Vancouver, where they oversaw the culmination of long hours of study for many industrious students. We are inspired by the initiative taken by these test takers to challenge themselves, and wish that all of them may achieve the results they hope for.
Our ukiyo-e exhibition, Legendary Loyalty: The 47 Ronin in Japanese Prints, presented in cooperation with the Stuart Jackson Gallery, continues until March 4. A long run, to be certain, but this exhibition is so packed with visual details and informative text, you will want to return for at least a second look, especially as your appreciation of the story deepens through our upcoming Chushingura lectures and film screenings. You will also have a chance to experience the art of Rakugo, a traditional form of comic storytelling dating back to the Edo period, when master storyteller Yanagiya Sankyo performs at the JCCC on Sunday, February 12.
The winter semester of Japanese Together, our language class, will begin in January. It's not too late to join if you're looking to brush up on your late beginner-level Japanese. We also have some fun themed classes coming up, including an intermediate-level conversation class related to one of our upcoming film screenings.
Speaking of those, we are excited to announce that we will be showing three films at the Hot Docs Ted Rogers Cinema to kick off the new year: Samurai Cat and Sue Mai and Sawa on January 8, and A Tale of Samurai Cooking on January 15. We will be heading to Hamilton and London for more screenings in February and March.
Finally, our year was made so much richer by our partnerships with other like-minded organizations and individuals, including the Embassy and Consulates-General of Japan in Canada, the Japanese Canadian Cultural Centre, the Canadian Association of Japanese Language Educators, the Japan Studies Association of Canada and so many more. We are especially grateful for the 100+ volunteers who generously give their time to support our exhibitions, library services, language classes and events.
On behalf of The Japan Foundation, Toronto, I wish you all a safe, warm winter and a joyous holiday season, and look forward another year of exchanging ideas and sharing our cultures and experiences.
Emi Iwanaga
Executive Director
The Japan Foundation, Toronto
---
October 13, 2016
Is 2016-2017 a Year of Design at JFT? It has been on my mind to have a programming theme, a thread that connects our events and exhibitions. After all, design is something that permeates all of our lives, whether or not we give any thought to it. This summer, we showed a series of films that looked at the various ways humans have adapted natural resources and processes to create modern horticulture and cuisine. This is an origin of what we think of as design- learning to cultivate rice, vegetables and a certain strain of mold that makes the perfect sake….and then using clay and fire to create bottles and cups that not only hold our food and drink, but look beautiful in our homes, like the pieces in this summer's Yakishime exhibition.
Our current exhibition, Takashi Hiraide — Airpost Poetry Book Design for One from One, showcases innovative book design and mail art by bestselling author Takashi Hiraide. In his writing, bookbinding and design, he aspires to make the reader/viewer consider what it means to be a "book." He will be with us on October 27 to share his philosophy, as well as giving talks at the International Festival of Authors.
In our fall film series, When the Mask…Becomes the Face!, humans redesign their identities, for better or worse. We are proud to be working with the Rendezvous with Madness Festival in presenting The Face of Another, and to host Mikiko Sasaki, a director whose first feature documentary, The Great Sasuke, will have its Canadian Premiere at The Revue Cinema on October 16.
On November 2, we will host a talk by one of Japan's most famous designers, art director Kenya Hara. Among many other titles and accomplishments, Mr. Hara has served as Art Director of Muji since 2001, influencing the look of fashion and home décor around the world.
Can we weave the thread of "design" through our Japanese language classes? Well, once you master hiragana and katakana in our classes, you can start to explore the possibilities of Japanese typography! Learning the Japanese phonetic alphabets is a necessary first step in learning the language, and before you know it, you'll be ready to take the Japanese Language Proficiency Test, which is held each December in Toronto, Edmonton and Vancouver. (Don't worry- registration for 2016 is now closed, so if you haven't already signed up, you're off the hook this year!)
We have also been keeping busy in the field of Japanese Studies and Intellectual Exchange. Last week, we had the honour of collaborating with the Japan Society in presenting a lecture on Abenomics by French economist and scholar, Professor Sébastien Lechevalier, who is also a recipient of a JF fellowship. And next week, I will attend the annual conference of the Japanese Studies Association of Canada (JSAC), an institution that will celebrate its 30th anniversary in 2017.
If you are interested in learning more about Japan Foundation fellowships and programs, please take a look at our 2017-2018 Program Guidelines, which were recently posted online. And exhibitions, events and program deadlines may come and go, but our library is always here, containing all the resources you need to delve into Japanese culture, design-related or not.
Last but not least, in about one month, I will mark my first year as Executive Director of The Japan Foundation, Toronto. During this busy time, I have been grateful for the support and friendship of Chieko Kono, who has served as my deputy and Director of JFT since August 2013. It is with some sadness that I must announce that next month, Ms. Kono will return to Tokyo to assume a new role in the organization, but I have no doubt that her talent, leadership, humour and patience will be a marvellous asset to her next assignment! On behalf of all of our staff, I would like to express our warmest thanks and best wishes to Ms. Kono, who always has a smile and a kind word for everyone.
Once he has had a chance to settle in, we will introduce Masahiro Saito, who will be arriving from Tokyo next week to succeed Ms. Kono as my deputy and Director of JFT. We look forward to seeing you in Toronto, Mr. Saito!
I wish you all a happy and healthy fall season, and look forward to seeing you at our events, in our gallery and around town.
Emi Iwanaga
Executive Director
The Japan Foundation, Toronto
---
July 26, 2016
We begin with exciting news: thanks to the generosity of Christie Digital Systems, we have installed a new, high-definition projector in our event hall. We are grateful to Christie for this marvellous gift, and look forward to resuming in-house programming of lectures, films and workshops.
For our inaugural event, our Japanese Studies and Intellectual Exchange (JSIE) department hosted two lectures by Hungarian ceramic artist and Japan Foundation Fellow Julia Nema. Dr. Nema spoke about our current exhibition, Yakishime- Earth Metamorphosis, which introduces a Japanese technique in which pottery is fired at a high temperature, resulting in a variety of unusual finishes. We were honoured by the attendance of the Hungarian Consul General, Stefania Szabó, at the lecture. The full-to-capacity audience included a number of Canadian ceramic artists, some of whom travelled for several hours to join us.
The yakishime exhibition includes a number of beautiful pieces designed for use at the dinner table, so we have programmed a complementary series of seven documentaries related to traditional Japanese horticulture and food preparation. Titled Designed by Nature, Refined by Tradition, the series includes films on heirloom vegetables, sake-making, and the origins of shoyu and dashi. All screenings are free and subtitled in English.
Our summer film programming continues on August 21 and 28 with free presentations of three classic musical films, which will be screened on 35mm at the historic Revue Cinema. Originally selected for the Japan Sings! series at the Japan Society, New York, the films will be introduced by series curator Prof. Michael Raine of the University of Western Ontario.
The Toronto Japanese Film Festival recently wrapped up its fifth edition, and we would like to congratulate the Grand Jury Prize winner, Mipo Oh's Being Good, and the Kobayashi Audience Choice Award winner, Nobuhiro Doi's Flying Colours. Congratulations also go to the Fantasia International Film Festival in Montreal, which will celebrate its 20th anniversary, and to director Takashi Miike, who will receive their Lifetime Achievement Award. We are proud to see Japanese directors being honoured at Canadian festivals.
As you may know, summer is the season for matsuri (festivals), and this year we were lucky to have two traditional Japanese festivals in the Toronto area – the Natsu Matsuri and Bon Odori at the Japanese Canadian Cultural Centre on July 9, and the Mississauga Japan Festival on July 10! We also held a Japanese language class on the theme of matsuri to help get into the festival spirit.
On July 3, the summer Japanese Language Proficiency Test was held at the University of Alberta in Edmonton. Our best wishes go out to the test-takers who diligently continued their studies well into the lazy days of summer! The next opportunity to take the test will be on December 4. We will post registration information on our website in September.
My colleague and I had the pleasure of attending the graduation ceremonies at the Toronto Japanese Language School and Nisshu Gakuin. There are many such opportunities for Japanese language studies in Toronto, including JFT's own Japanese Together classes. And of course, you can always stop by our library to check out books, movies, learning materials and manga in Japanese and English.  We also offer support for teachers of the Japanese language, including our recent Summer Training Program, which was held in Edmonton in cooperation with Alberta Education.
We wish you all the best for a season of sunshine and relaxation, and hope to see you soon at JFT.
Emi Iwanaga
Executive Director
The Japan Foundation, Toronto
---
April 13, 2016
Reflecting on the Past/ Reflecting on the Future: Hyogo Aid '95 Revisited
In 1995, the Japan Foundation, Toronto was reborn. What began as an office became a fully-fledged cultural centre, complete with a gallery for the exhibition of Japanese and Japan-related artworks.
And the exhibition that first graced our gallery walls at our original location in the Colonnade was Hyogo Aid '95.
1995 was the year of the devastating Great Hanshin Earthquake in Kobe in which over six thousand lives were lost. The international community embraced the people of Japan, and we were overwhelmed by the kind thoughts of those in Canada and all over the world.
Many Japanese artists also showed their solidarity by contributing works of art in support of recovery efforts. Thus the Hyogo Aid '95 project was born.
Now we find ourselves twenty years on in a new location, looking back on the many exhibitions and programs we have been able to present. Seeing the artwork in this collection on the gallery walls at the Japan Foundation, Toronto once again, I am reminded of the journey we have taken. A journey that has without a doubt been worthwhile.
I am delighted to welcome you to our new gallery space, and hope that you will be inspired by the images you see to reflect not only on the past, but on the future as well.
Emi Iwanaga
Executive Director
Japan Foundation, Toronto
Sadly echoing Hyogo's disaster, earlier this month the Kumamoto region of Japan suffered another devastating earthquake. While our appreciation goes out to those in the international community who have offered their well-wishes and support, our deepest sympathies go out to those who have suffered tragic losses.  
---
March 29, 2016
It seems like only yesterday that I arrived in Canada to succeed Takashi Ishida as the Executive Director of The Japan Foundation, Toronto, but somehow, a whole season has passed in a flash. Snow has been replaced by the first green snowdrop shoots, and time has barely stood still long enough for me to collect my thoughts.
The transition from my previous post as the Executive Director of The Japan Foundation, Budapest took me far afield: back to Japan, and then a whirlwind tour of Toronto, Vancouver and Calgary. I have had the pleasure of meeting many friends and colleagues of JFT, and I look forward to getting to know even more of you as I continue to get to know Toronto and Canada.
In January, flooding in our building led to the unexpected, extended closure of our cultural centre, and we have been overwhelmed by support and concern from our friends and visitors. On behalf of The Japan Foundation, Toronto, thank you for your kind wishes, encouragement and patience during the closure.
We are eager to resume our activities at 2 Bloor Street East, and I am happy to announce that we will be opening to the public again soon. The Library will reopen on Monday, April 4 (so you can rest assured that this is not an April Fool's Day joke!), and we will have lots of new materials for you to catch up on in the coming months. Please check our website for hours and additional opening dates.
My first month in Canada kicked off with the Japanese Language Proficiency Test, held yearly in Toronto, Vancouver and Edmonton on the first Sunday of December. The test results are now available online for test takers, and I hope all those who challenged themselves this year received the scores they hoped for. For those who are raring to take another shot at it before next December, the test is also held in Edmonton in July, with registration open until April 8th.
This past weekend, I had the privilege of serving as a judge at the 27th Canada National Japanese Speech Contest. It is inspiring to see the students' hard work come to fruition at such a high level of competition, and I was deeply impressed by the participants' communication skills.
For those who are interested in studying Japanese, we have expanded our class offerings, with term-based courses using the Japan Foundation's Marugoto textbook, and special events, such as our popular travel and holiday-themed classes. We also have a wide variety of Japanese language textbooks available for loan at our Library.
Despite the unexpected inconvenience of the closure, we kept busy this winter, getting out and about to carry on with our activities at various alternative venues. We hosted a series of lectures, in Toronto and other cities, on far-reaching topics including the Chushingura legend in the arts, urban planning for 'smart' cities, and the work of celebrated Japanese architect Manabu Chiba. In addition, we launched our Travel Lecture Series with two evenings of cross-cultural exchange related to travel writing and special interest tourism. We are grateful to the many hosting and co-sponsoring organizations, too numerous to name, that worked with us to realize these events.
Our annual film screenings at the Bloor Cinema were held in January, and we experienced our highest attendance numbers to date. I have no doubt that our promotional partnerships with the Toronto Japanese Language School, the Japanese Canadian Cultural Centre, and the Reel Asian International Film Festival were a large factor in the success of this year's screenings. We also visited Hamilton, holding screenings at the Hamilton Public Library and the Hamilton Dialogues.
Cinema Kabuki returned to the TIFF Bell Lightbox in February, drawing long-time fans and new converts to enjoy four kabuki plays in high-definition surround sound. This was a marvellous opportunity to meet members of the community with a strong interest in Japanese arts and culture. As has become a tradition, many dressed up for the occasion, brightening up the chilly mornings with colourful interpretations of classic and contemporary kimono dressing.
We will be announcing more programming in the coming weeks, so please check our website or subscribe to our email newsletter for updates. In the meantime, I wish you a warm and peaceful spring season, and look forward to seeing you soon.
Emi Iwanaga
Executive Director
The Japan Foundation, Toronto
interview with Emi Iwanaga in Nikkei Voice
interview with Emi Iwanaga in E-Nikka
November 19, 2015
July 2015
February 2015
December 2014
Fall 2014
Summer 2014
Spring 2014
Winter 2014
---
November 19, 2015
Dear Friends and Colleagues,
2015 has been an eventful year for the Japan Foundation, Toronto. After 20 years in the Colonnade Building, we have relocated to 2 Bloor St. East, on the third floor of the Hudson's Bay Centre. We sincerely hope that you will join us as we continue to offer exhibitions, a free lending library, language classes, lectures, film screenings and other events at our new centre.
JFT is moving into the next phase of its existence and I, too, am also moving on to the next phase of my life. After four years with The Japan Foundation, Toronto, I will be returning to my family and home in Japan at the end of November.
Since arriving in Toronto in 2011, I have enjoyed cooperating with Canadians to realize projects introducing Japanese culture and fostering international exchange, and it has been my privilege to experience the open-mindedness and generous spirit of the Canadian people and the beauty and diversity of the land. It has truly been a pleasure to represent The Japan Foundation in Canada, and I will always hold fond memories of this country and its people in my heart.
However, I leave JFT in excellent hands with my successor, Ms. Emi Iwanaga, a long-time Japan Foundation veteran and dearly respected colleague who comes to us from a post as Executive Director of The Japan Foundation's Budapest office. I have no doubt that her experience, professionalism and enthusiasm will lead JFT in exciting directions.
I would like to express my deepest appreciation for your kindness and support of The Japan Foundation's programming during my tenure, and beyond, and to wish you all the best in your future endeavors.
Sincerely,
Takashi Ishida
Executive Director
The Japan Foundation, Toronto
---
July 9, 2015

Time has passed quickly since we announced our plans to move, and we are already entering our last two months in the Colonnade Building.
Thank you to everybody who came out for our library's farewell celebration on June 13 for storytelling, origami, purikura and a visit with PARO the robot baby seal. On June 30, our gallery also closed its doors for the last time. Over the years, we have presented over 100 exhibitions, and our final exhibition in this gallery featured extra-large B-Zero designs from some of Japan's top designers. We have enjoyed 20 happy years in this building, and we will miss our friends and neighbours, but we look forward to continuing our work at the new gallery and library in the Hudson's Bay Centre at 2 Bloor St. E. in the fall.
While we prepare for the move, we continue to develop programming for the rest of the year and support film, language and cultural activities around Toronto and greater Canada. We are also supporting Japan Studies Fellowship awardees travelling to Japan for research, and language studies.
The Toronto Japanese Film Festival just wrapped up its fourth instalment, and each year is more impressive than the last. With The Japan Foundation's grant support, this year's festival hosted two esteemed guest directors, Masato Harada and Masayuki Suo. After the festival, The Japan Foundation was able to team up with the TJFF and University of Toronto Department of East Asian Studies to present a sold-out screening of Mr. Suo's 2012 drama A Terminal Trust, with Mr. Suo and the film's star, Tamiyo Kusakari, in attendance.
The Summer Training Program for Japanese-Language Teachers was held on July 2-3 in Burnaby, British Columbia, and on July 5, the only North American summer session of the Japanese Language Proficiency Test (JLPT) was held in Edmonton, Alberta. Let's hear it for all the enthusiastic teachers and students who continue to work on their Japanese language skills during the summer! Our thanks are due to the Prince Takamado Centre for Japanese Education and Research of the University of Alberta for organizing the test.
In other Japanese language news, our Travel Japanese class was so popular that we decided to add an extra session. Thank you to everyone who signed up, and we hope you have a chance to put your new language skills to work on your next trip to Japan.
We were delighted to hear that the inaugural recipient of Renison University College's Teaching Excellence Award was Professor Akiko Maruoka. Professor Maruoka taught Japanese language at Renison and was the founder of the Ontario Japanese Speech Contest, among other accomplishments. Congratulations to Professor Maruoka!
Summer in Japan is a great time to enjoy festival culture, and we have two chances to do so right here in Toronto. The annual Natsu Matsuri and Bon Odori is held at the Japanese Canadian Cultural Centre on July 11, and the Matsuri will bring the sights, sounds and tastes of Japan to Yonge-Dundas Square on July 26. Please drop by the Japan Foundation booth and say hello.
This summer, we are delighted to present two film screenings at Innis Town Hall in partnership with the Consulates-General of Iceland and Finland, and the University of Toronto's Department of East Asian Studies. Nordic Nippon Nights will feature the 1995 Icelandic/Japanese comedy Cold Fever on July 24, and the 2006 Japanese/Finnish comedy Kamome Diner on August 7.
We wish you a relaxing and refreshing summer season. Please enjoy some ramune,  yakisoba and kakigori at your local festival, and we look forward to seeing you around town.
Warm regards,
Takashi Ishida
Executive Director
The Japan Foundation, Toronto
---
March 20, 2015

On the brink of the Vernal Equinox, marking the Northern Hemisphere's long-awaited shift from winter to spring, we have our own major transition to announce. Effective September 1, 2015, the Japan Foundation, Toronto will be moving to a new location in the Hudson's Bay Centre at 2 Bloor St. East.
The Japan Foundation opened its Toronto office in 1990, and  later expanded its operations to become a cultural centre in 1995. At that time, we moved to the Colonnade Building and opened a public lending library, exhibition space and event hall. Over almost 20 years, countless exhibitions, lectures, film screenings, demonstrations, concerts, conferences, author's and artist's talks, and other events were organized, often in cooperation with Canadian partners, presenting diverse aspects of Japanese art, culture and society. We have appreciated our luck at being housed in the historic Colonnade building in the lively Yorkville neighbourhood. Most recently, we were proud to join the area's arts and cultural organizations as a founding member of the Bloor Street Culture Corridor.
We are happy to be moving only a few short blocks east, to the dynamic intersection of Bloor and Yonge. The Japan Foundation will be just as accessible, if not more. Our new location is almost directly atop Bloor-Yonge Station, and the Foundation will continue to offer library service, gallery exhibitions, language classes and various free cultural events.
While preparing for the big move this summer, we will experience a brief suspension of regular service. During the springtime, however, we will continue our operations. Please visit our event calendar page for upcoming events, and our moving page. Our weekly newsletter will also keep you up-to-date on our progress.
In the meantime, we'll look forward to seeing you during our last few months in the Colonnade!
Warm regards,
Takashi Ishida
Executive Director
---
February 13, 2015

We are now well into 2015, Year of the Ram, appropriately so, as we find ourselves swathed in wool, lowering our horns and charging head on through the cold winds and drifting snow of one of the colder winters in recent memory. In Japan, crowds brave the weather to enjoy snow sculptures at Yuki Matsuri (snow festivals), the most famous of which is held in Sapporo, Hokkaido. Here in the Yorkville neighbourhood of Toronto, we look forward to ice carving demonstrations at the Yorkville Icefest, held on February 20-21. If you're looking for a complete change of pace, why not visit the Outdoor Adventure Show on February 20, 21, and 22 and learn about travel opportunities in Japan?
Having just wrapped up the Threshold print exhibition by Walter Jule and Ryoji Ikeda, we now welcome another artist to our gallery. The Byobu screen exhibition features beautiful Nihonga-style painted screens by Montreal resident Alejandro Bertolo, alongside works by his mentor, Hiroshi Yamamoto.
Last month, we enjoyed co-presenting a unique event at the Revue Cinema on Roncesvalles: a screening of the documentary The God of Ramen accompanied by samples of Japanese food. We also took our film showings on the road to Hamilton, where we held three screenings at the Central Public Library.
Of course, we have a number of exciting events in the pipeline. On Valentine's Day, we will delve into the romance of beer brewing in Japan and Canada with a talk by Dr. Jeffrey Alexander and Nicholas Pashley. In March, we will look at the world of Japanese video games and also examine the jury system in Japan.
Our library, currently displaying selections from the IBBY Collection for Young People with Disabilities (through February 27), will celebrate Hina Matsuri (Girls' Festival) on March 7. Several sets of hina dolls will be displayed during the month of March, and the Katari Japanese Storytellers will return on March 21 for their annual storytelling event
JLPT results were announced last month, and I hope you all received the marks you were hoping for. Now we turn our focus to the upcoming regional and national Japanese Language Speech Contests. Good luck to all participants!
We are eagerly anticipating the return of Cinema Kabuki to the TIFF Bell Lightbox on February 28 and March 1. Tickets are now on sale, and we will be holding a series of free talks on a variety of kabuki-related topics at JFT in the weeks leading up to the event.
There is much to celebrate in the world of Japan-Canada relations. Recently, University of Toronto Professor Emeritus Michael Donnelly, founder of the Asian Institute at the Munk School of Global Affairs, was awarded the Order of the Rising Sun, Gold Rays with Neck Ribbon for his work in intellectual exchange.
Two of our past visiting authors have also received high honors. Hiromi Kawakami just received the Yomiuri Literary Award, and Masatsugu Ono was awarded the Akutagawa Prize.
In sadder news, on February 10, Japan lost its most celebrated industrial designer, Kenji Ekuan, best known for designing Kikkoman's iconic soy sauce dispenser in 1961. The simple, highly functional bottle was featured in both editions of the Japan Foundation's Japanese Design Today 100 exhibitions.
I hope you are all staying safe, warm and free from the flu and cold. Please enjoy the beauty of winter in Canada, and I look forward to seeing you at The Japan Foundation, Toronto, and out and about.
Takashi Ishida
Executive Director
The Japan Foundation, Toronto
---
December 4, 2014

Although the calendar claims that nearly three weeks of fall remain, it seems appropriate to call this a winter greeting. There is still no snow on the ground, but the streets outside the Colonnade Building are lit with holiday garlands and the dropping temperatures demand that we swath ourselves in layer upon layer of insulation before leaving the house.
A sure sign of the year-end is the arrival of our annual Japanese Film Screenings in Toronto. Throughout the fall, our films tour Canada with the support of the local Consulates-General of Japan, ending in Toronto. Please join us for three free screenings at the Bloor Cinema of films highlighting the lives of young people in Japan on Dec. 7, 8 and 9.
Another (perhaps less eagerly anticipated) sign of winter is the impending Japanese Language Proficiency Test (JLPT), held annually on the first Sunday of December in Toronto, Calgary and Vancouver. Good luck to all of this year's test-takers!
Many of you will rejoice upon hearing that after taking a break for one year, Cinema Kabuki is returning to Toronto in 2015! Screenings will be held at the TIFF Bell Lightbox in February, so please stay tuned for updates in the New Year.
Looking back on 2014, Japan can take pride in the naming of washi, traditional Japanese paper, to the UNESCO Intangible Cultural Heritage list. Washi joins washoku, traditional Japanese cuisine, which was named to the list in late 2013. You can see a fine example of washi's use in our current exhibition, Threshold, on display until January 31, 2015. This collaborative exhibition showcases prints by Canadian artist Walter Jule and Japanese artist Ryoji Ikeda, most of which are printed on gampi washi paper.
While the Japan Foundation, Toronto's mandate is to introduce Japanese culture to Canada, it is equally rewarding to see Canadian culture represented in Japan. This year, NHK's asadora (morning drama series) Hanako and Anne, told the story of Hanako Muraoka, the first person to translate Anne of Green Gables into Japanese, and a famous Japanese-Canadian baseball team is the subject of a major new Japanese motion picture, The Vancouver Asahi. We hope to see more examples of international exchange between Canada and Japan in coming New Year.
As you traverse the lively Bloor St. Culture Corridor, please take some time to visit our gallery and library, noting that our gallery and library will close for the holidays on December 20, reopening on January 5. Remember, if you borrow library materials before the holiday, you can keep them for an additional two weeks. And if you missed any of our recent events, please check our book lists of related materials.
On behalf of The Japan Foundation, Toronto, I wish for a safe and happy holiday season for all of our friends in Toronto, across Canada and around the world.
Takashi Ishida
Executive Director
---
October 1, 2014

Autumn greetings from The Japan Foundation, Toronto. We are enjoying a gentle transition from summer to fall this year, with perfect weather for the beginning of the school year and TIFF. Even Word On the Street, often slightly too chilly for comfort, turned into a lovely, sunny day after a morning of frightening torrential rain! Although our ever-popular robot seal PARO was not able to make an appearance due to weather concerns, we were still able to keep busy promoting our library materials and services to fellow book lovers.
In other book news, we are excited to be welcoming one of Japan's brightest young authors, Fuminori Nakamura, to Toronto's International Festival of Authors. His book The Thief won numerous awards, including Japan's most prestigious literary award, the Oe Prize, and his newest translated thriller, Last Winter We Parted, will be published on October 21. This is a chance to meet a great new talent in suspense fiction whose star is only beginning to rise.
This is always an exciting season, as we begin our annual contemporary film screening series, hosted by the Japan Foundation and local Consulates-General across Canada, open registration for the Japanese Language Proficiency Test (JLPT), and welcome local and international scholars for the annual conference of the Japan Studies Association of Canada (JSAC).
At this time of year, the Japan Foundation publishes the new program guidelines for the coming fiscal year. This includes grants and fellowships for projects occurring between April 1, 2015 and March 31, 2016. Although most application deadlines are in early December, please check our website carefully as some deadlines are earlier, such as Performing Arts Japan and the grant for Translation and Publication. Please do not hesitate to contact our office, or your local Consulate-General, if you have any questions.
Our current exhibition, Japanese Design Today 100, reconfigures a popular earlier exhibition of the same name with new and exciting design pieces from Japan. This has been an especially stimulating and well-received exhibition, with many visitors coming to experience both high tech and handcrafted artifacts of Japanese material culture. If you haven't seen it yet, it will continue until October 30, with a special late night opening until 1:00 a.m. for Nuit Blanche on October 4 -5. After October 30, the exhibition will then travel to Montreal, where it will be on display at UQAM from November 19 to January 18.
In addition to our annual cross-Canada film screenings, we will also be hosting a series of 35mm anime screenings at the Revue Cinema in October. This will be a great chance to see some rarely screened classic anime films, including AKIRA, on the big screen in a classic neighbourhood theatre.
We continue to offer various courses in Japanese language, including a new long-term course based on the Japan Foundation's Marugoto textbook series. Of course, we also offer a number of short-term courses on interesting topics, including our Japanese Language and Culture Sampler, JLPT preparatory classes, and a Reading in Japanese course, among others. In addition to courses for students, we offer workshops for Japanese language teachers, including the Continuing Learning Japanese series, and an introduction to using the Marugoto textbook.
As the air grows colder, please stop by and visit us to enjoy the design exhibition, take in a lecture, movie or class, study or relax at our library.
Take care and enjoy the many cultural events Toronto has to offer this fall!
Takashi Ishida
Executive Director
---
June 25, 2014

The long-awaited summer season has finally arrived! We had the pleasure of attending several Japanese-Language school graduations in Toronto, and would like to say congratulations and "o-tsukaresama deshita" to graduating students and their teachers.
For many, summer vacation means taking a few months to rest, recover, and travel, but there are also opportunities to take summer classes and engage in professional development and networking activities, as is the case with the Japanese-language teachers participating in our summer training program in Victoria. In addition, the Canadian Association of Japanese Language Educators (CAJLE) will hold their annual conference in Toronto in August, providing further opportunities for information sharing.
For those students who are keen to put their Japanese language skills to work over the summer, the University of Alberta in Edmonton will be holding a summer Japanese Language Proficiency Test (JLPT) session, the only summer session currently held in North America. If you missed the deadline for this one, registration for the December JLPT sessions across Canada will open in September.
At the Japan Foundation, Toronto, our Seiji Ozawa photography exhibition will continue until July 31. It has been truly inspiring to meet friends and colleagues from Maestro Ozawa's Toronto years, and to realize the lasting impact he has had on the international classical music scene.
Our next exhibition, New Japanese Design Today 100, August 6 to October 30, will feature 100 artifacts, from dishes to masking tape to cameras to cars, representing the finest ideas in contemporary industrial design.
In the library, we will celebrate Tanabata, the summer star festival, with cultural displays and Saturday festival days on July 12 and 26. On these Saturday openings, there will be a chance to meet PARO, a therapeutic robot seal (whose sibling recently found a home at CAMH, a Toronto hospital). On July 22, a book launch will be held for Japanese author Yoko Morgenstern's debut novel. The library will be closed for inventory during the week of July 28, but please check the website for information about hours, special events and new acquisitions.
The Toronto Japanese Film Festival at the JCCC is drawing to a close after screening 18 top films from Japan, and we are honoured to be able to co-present a screening of A Boy and His Samurai at JFT with TJFF special guest director Yoshihiro Nakamura present. In July, we look forward to the visit of anime director Mamoru Oshii, who will be present for the first two screenings of the retrospective Techno/Human at the TIFF Bell Lightbox. We will also host a presentation of animated shorts created by Toronto Animated Image Society's artist-in-residence, Maya Yonesho, and her workshop students.
July is a busy month for the Japanese community, with the Natsu Matsuri and Obon festival at the JCCC on July 12, and the Matsuri at Yonge and Dundas Square on July 27. Please come out and experience Japanese culture this summer in an air-conditioned theatre, in our comfortable library, or a lively outdoor Japanese summer festival.
I hope you enjoy the warm weather and long hours of sunshine, and I look forward to seeing you around town.
Takashi Ishida
Executive Director
---
April 1, 2014

While we have always been grateful for our location in the architecturally significant Colonnade building at 131 Bloor Street West, with its historic charm and lively atmosphere, we particularly appreciate the many wonderful neighbours who share our goal of celebrating diverse national and international arts and culture in Toronto and beyond. This spring, the Japan Foundation joined with 11 other organizations  to inaugurate the Bloor Street Culture Corridor, promoting the wealth of sights, sounds and experiences contained within the one-mile walk between Bathurst and Bay. Please visit the new Bloor Street Culture Corridor website for information about our partners and events.
The Many Faces of Danjuro IX, an exhibition of original ukiyo-e prints, continues through April 30.  Over the past month, complementing the exhibition, we have held a series of lectures and screenings in our event hall of Noh and Kabuki films illuminating the legacy of Danjuro IX, and the final lecture will be held on April 8.
Looking back, since January we have organized lectures on architecture, trade regimes, anime, manga and pop culture at our event hall and other venues; hosted a manga artist in residence from Japan; and held a variety of language classes.
In April, we will organize film screenings in Hamilton, Burlington and London. As we always welcome the opportunity to work with community groups to hold screenings and other events in Ontario, please contact us, and we will be happy to discuss the possible options.
Following Danjuro IX will be an exhibition, organized in partnership with the Toronto City Archives and the Toronto Symphony Orchestra, documenting the early career of Seiji Ozawa, the legendary conductor who came to Canada as a young man in 1968 to direct the Toronto Symphony Orchestra. Seiji Ozawa, Portrait of a Young Maestro, will be open from May 6 – July 31.
On May 26 and 27, we will have a special weekend opening for Doors Open, with a focus on Japanese ghosts and monsters in keeping with the festival theme of "Secrets and Spirits." On the same weekend, JFT will have a table at Anime North, a convention celebrating anime, manga, music, games and other forms of Japanese culture.
We have also been busy attending and supporting the seven annual regional Japanese Speech Contests across Canada, which just concluded with the national competition in Ottawa. Congratulations to all of the participants and winners!
For students of Japanese who are ready to take the Japanese Language Proficiency Test early, we are happy to announce that for the second year, the University of Alberta in Edmonton will be holding a summer JLPT test session on July 6. Registration is open until April 11.
Please drop in to the Japan Foundation library to see our latest acquisitions, including books, journals, DVDs, CDs and other materials in Japanese, English and French, and watch for the latest news about exhibitions and events on jftor.org. On behalf of our staff members and volunteers, I thank you for your continued interest and support, and look forward to seeing you out and about this spring in Toronto.
Takashi Ishida
Executive Director
---
Akemashite Omedetou Gozaimasu and Happy New Year from The Japan Foundation, Toronto!
2013 has been a busy year of exhibitions, lectures, concerts, film screenings, readings and language classes, not only at our Toronto cultural centre and library, but through our Canada-wide grants, event co-presentations and project sponsorships. We are looking forward to even more exciting programs in 2014.
During the final weeks of the Yokohama Noh Photography Exhibition (on display until January 31), we will be showing a series of Noh-related films: Akira Kurosawa's Throne of Blood, animated Noh plays directed by the great stop-motion animator Kihichiro Kawamoto, and two modern Noh plays written by Yukio Mishima.
In February, we will launch The Many Faces of Danjuro IX, an exhibition of original ukiyo-e prints co-presented with the Stuart Jackson Gallery. We will also welcome the manga artist Nao Yazawa as our guest until early March. Ms. Yazawa, known for her manga and anime "Wedding Peach", among others, will support our Japanese Language team in presenting educational events introducing Japanese language and pop culture.
Please join us for these events, and more to be announced as the year continues, and visit our library to explore more about Japanese film, literature, history and culture.
On behalf of all the staff at The Japan Foundation, Toronto, I would like to express my sincere gratitude to our many guests, visitors, lecturers, supporters and volunteers for making 2013 a memorable and successful year, and wish you all the best for a wonderful 2014.
Takashi Ishida
Executive Director
---