Domesticating the Kappa, Or: What do Yokai Mean?

October 26 @ 6:30 pm

-

7:30 pm

EDT

Cost: Free
Yōkai – traditional ghosts and monsters – have been a fixture of Japanese popular culture since its beginnings in the 17th century. Now, with the global popularity of Japanese comics and animation, these fascinating creatures have come to haunt the imagination of people the world over. But what are they? And why have they endured for so long?
Offering the kappa or water imp as a case study, this talk will explore the surprising range of meanings with which Japanese culture has invested yōkai over the centuries. Through encounters with kappa in literature, in folklore, and in pop culture, we'll uncover the dark, macabre streak that lurks within the cute and cuddly kappa of today. Along the way, we'll see how yōkai have been transformed from ciphers of universal anxiety to signifiers of national identity.
---
The Speaker Glynne Walley is Associate Professor of Japanese Literature at the University of Oregon in Eugene, Oregon, USA. He received his PhD from Harvard University in 2009. His research focuses on the popular literature and visual culture of the 19th century. He is the author of Good Dogs: Edification, Entertainment & Kyokutei Bakin's Nansō Satomi hakkenden (Cornell East Asia Series, 2017). His translation of Bakin's Eight Dogs, Part One, published in 2021, received the Japan-United States Friendship Commission Prize for the Translation of Japanese Literature from the Donald Keene Center of Japanese Culture, Columbia University. Eight Dogs Part Two is forthcoming in 2024. He has also curated the digital exhibition Yōkai Senjafuda, showcasing the University of Oregon's collection of ghost and monster-themed woodblock-printed votive slips.
---
Related events: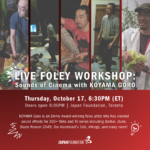 Live Foley Workshop: Sounds of Cinema with KOYAMA Goro
Tuesday, October 17, 6:30 PM (ET)
Workshop Event @ JFT Event Hall | Admission free | Registration required
---
Kamishibai Storytelling —The Goblin, The Water Imp and The Thunder God & The Three Magic Charms—
Saturday, October 21, 3:30 PM (ET) Storytelling Event @ JFT Library | Admission free | Registration not required
---
JFT Library Items on Yokai
JFT Library collection includes a wide range of physical books, audiovisual materials, and ebooks & audiobooks on yokai in English, Japanese, and French. Check JFT Library Item List to help you decide which item to explore!
Apply for a new JFT library card or renew your expired card here.
---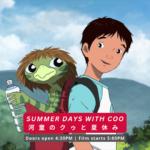 Summer Days With Coo
Saturday, October 21, 5:00 PM (ET)
Film Screening @ JFT Event Hall | Admission free | Registration required
---
---