JFT Book Club (Hybrid) – Manga: Planetes by YUKIMURA Makoto

September 28 @ 6:30 pm

-

8:00 pm

EDT

Cost: Free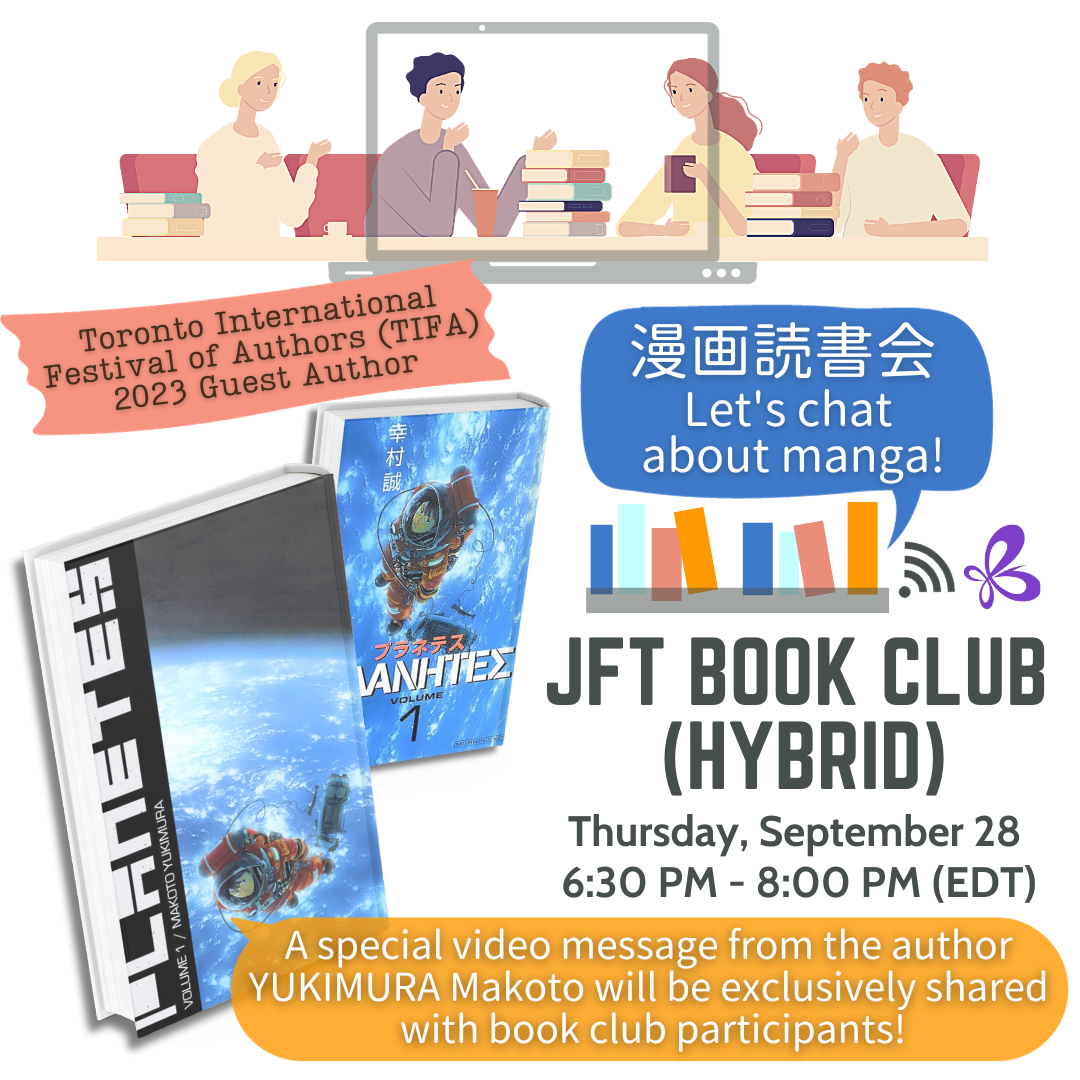 For the upcoming JFT Book Club Online, we will discuss YUKIMURA Makoto's manga (Japanese comic): Planetes, Volume 1 (the original Japanese version:『プラネテス』Volume 1-2)!
Join us in person or virtually to dive deep into this award-winning sci-fi manga with a remarkably realistic depiction of space and a moving story with philosophical themes and rich human drama of international characters! The author, globally renowned manga artist YUKIMURA Makoto is making his first visit to Canada as a featured guest of the Toronto International Festival of Authors (TIFA) 2023! Let's enjoy this thought-provoking story together with other manga lovers from different cultural backgrounds!
For those new to the book club or if you just want to listen this time, we also have a small number of "Observer" slots!
P.S. A special video message from Mr. YUKIMURA will be exclusively shared with participants!
*Please be aware that space may be limited.
*Depending on the number of participants and how the discussion goes, we might extend the end time until 8 pm (EDT). However, if you have other commitments, feel free to leave at 7:30 pm.
If you have any questions or concerns, please don't hesitate to email us at library_jftoronto@jpf.go.jp. First-time participants are always welcome!
---
WHY JOIN JFT BOOK CLUB?
You can read a book by yourself, but when you read something thought-provoking or moving, it's natural to want to discuss it with someone else. This will be an exciting opportunity to connect with other book lovers from different cultural backgrounds, find new and interesting books, authors, or themes, and develop a richer understanding of Japan that you wouldn't gain from reading alone!
HOW DOES THE UPCOMING JFT BOOK CLUB WORK?
1. Once you register for the event, you will receive guiding questions to help you think more deeply about the manga.
2. On the day of the event, we will meet via Zoom and in person at Japan Foundation Toronto Library (2 Bloor St E #300, Toronto, ON M4W 1A8 Canada). *How to find us: https://tr.jpf.go.jp/about-us/how-to-find-us/
3. We will start with a quick introduction & ice-breaking activity (*Light refreshments will be served for in-person participants)
4. Depending on the number of the participants, we will break into a few small groups to discuss questions so that everyone has a chance to share their thoughts.
5. After each breakout session, each group will share what they have discussed with other groups.
*There is no right or wrong answer. Different perspectives make discussion more fun and vibrant!
---
WHERE YOU CAN FIND A BOOK TO READ?
The physical copies of Planetes, Volume 1 and the original Japanese version『プラネテス』Volume 1-2 are available for checkout to JFT Book Club participants for a 1-week loan period (non-renewable).
To get a new library card or to renew your existing card, please follow the instructions found here.
Email Library to place hold (physical copy)
*The physical copies of Planetes, Volume 2 and the original Japanese version『プラネテス』Volume 3 – 4 are in-library use only until the end of Toronto International Festival of Authors 2023 (September 21 – October 1, 2023).
For more information about the book or where else you can get the manga copies, click here.
---
ABOUT THE BOOK
Planetes (原書:『プラネテス』)
Written and Illustrated by YUKIMURA Makoto
Translated by Yuki N. Johnson
Omnibus Published by Dark Horse Comics, 2015-2016
SPACE IS MESSY. SOMEONE'S GOT TO CLEAN IT UP!
In the 2070s, increased interplanetary travel has led to crisis-level amounts of dangerous space debris, and someone has to clean it up. Planetes follows the space-garbage crew of aspiring explorer Hachimaki, mourning Yuri, and secretive Fee, collected in two omnibus editions, printed from the original files and complete with bonus color pages!
* Winner of two Seiun Awards, Japan's highest honor for science fiction.
---
ABOUT THE AUTHOR
Makoto Yukimura is one of Japan's most respected manga artists. His works include the Viking epic Vinland Saga (published in English by Kodansha), winner of the Japan Media Arts Grand Prize and adapted into an anime streaming worldwide on Netflix, and the hard science fiction series Planetes (published in English by Dark Horse).
Click here to see PDF file of author details, book list and TIFA related event info.
---
Related Programming:
The Pursuit of Purpose:
Charting Vinland with YUKIMURA Makoto
Friday, September 22, 6:00 PM – 7:15 PM (ET)
In-Person @ JFT Event Hall | Admission free | Registration required
On September 22, Mr. Yukimura will sit down with Dr. Max Dionisio (Royal Ontario Museum) to unravel the secrets of creativity: his muses, his artistic deliberations, and the profound philosophies that breathe life into his narratives. Join us in Vinland as we explore the hugely popular genre of adventure manga together with Mr. Yukimura.
*Event registrants can enter a drawing to win a ticket to an autograph session at the JFT Library from 7:30 PM to 8:30 PM on the same day.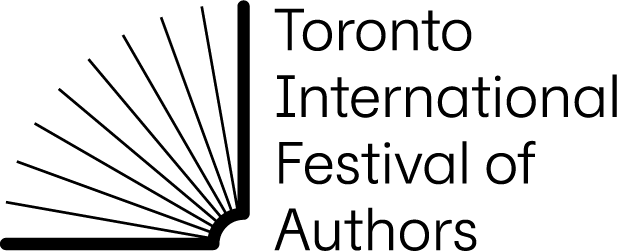 Visions of Vinland With Makoto Yukimura @ Toronto International Festival of Authors
Saturday, September 23 @ 1:30 PM
In-Person @ Harbourfront Centre | Paid event | Registration required
The internationally renowned Manga creator, Makoto Yukimura comes to Canada for the first time, offering a rare glimpse behind the scenes of the vivid, vicious world of Vinland Saga, the bestselling books that inspired the hugely popular Netflix adaptation.
Spanning 13 volumes, Thorfinn's quest to avenge his father and find peace in a new land takes him on an epic journey from Iceland to England, Denmark, the Byzantine Empire and back again, facing battle, brutality & betrayal every step of the way. Now, it's finally time for Thorfinn to discover the land he's dreamed of since he first sat at the feet of the great Leif Ericson – Vinland. Join Makoto Yukimura in conversation with Miles Baker, Managing Director of the Toronto Comic Art Festival for a unique and inspiring event.
Suitable for ages 12+.
---
Previous Book Clubs
---
---